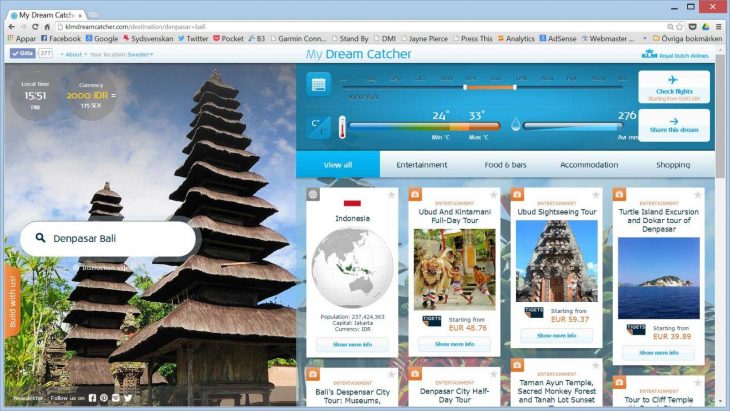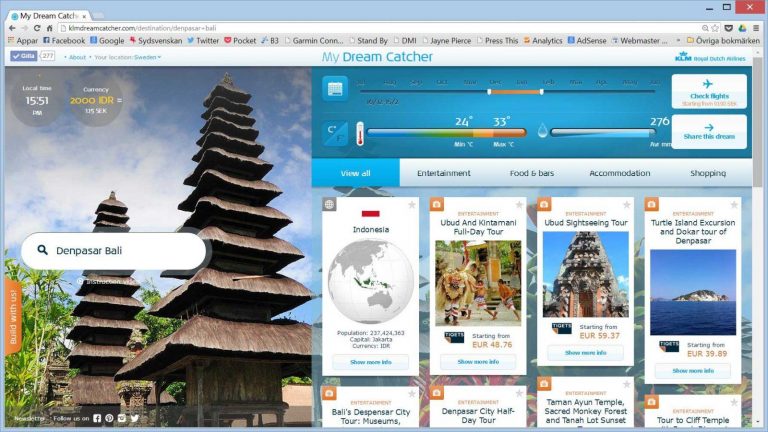 A look at and a Review of KLM Dreamcatcher Web Application.
Let´s have a look at KLM Dream Catcher that was introduced end of last year. To be totally honest, I have not heard of the web application until now which can be interpreted in two ways: either I am slow or it has not taken off as expected.  Anyhow, it is a nice initiative to enhance the customer's trip, not only peddling a seat. In other words: useful marketing benefitting the end-user. Below you will find the full  KLM Dream Catcher review.
In short: the page pulls feeds from Tripadvisor, Frommers, Wikipedia, Yelp, last.fm, Foursquare, Google, Muselia, yr.no, Facebook, YouTube and Flickr and then presents it to the user in a nice format. All this information is available on the web already, but who has the time and energy to check 12 different webpages if there could be a piece of useful information? I certainly do not have the time and appreciate the overview provided by the application. A little like a meta search site for air fares but instead offering tourist information. Useful for both the end user and for the travel professional who wants quick information, but bear in mind that this is information from the public and you should apply the normal scepticism, even though it says KLM in the URL.
The app also boasts a randomizer which is great for inspiration and a feature I really like. Naturally it works only for KLM destinations and I had not expected anything else. By "starring" suggestions you can create your own map for your dream trip and carry it with you on your smart phone and/or share it on Twitter or Facebook.
Once again, this is a great move by KLM and I strongly recommend it. The only thing that can be negative about this application for KLM is if the sources provide bad information. If you want to see how it works, please have a look at their introduction video:
This application also proves that Sabre is moving in the right direction with their new product Sabre Dev Studio where similar queries can be done. Read more about Sabre Dev Studio in this post.
Thoughts or comments on KLM Dreamcatcher? I would love to hear from you in the comment field below, on Twitter or on Facebook.