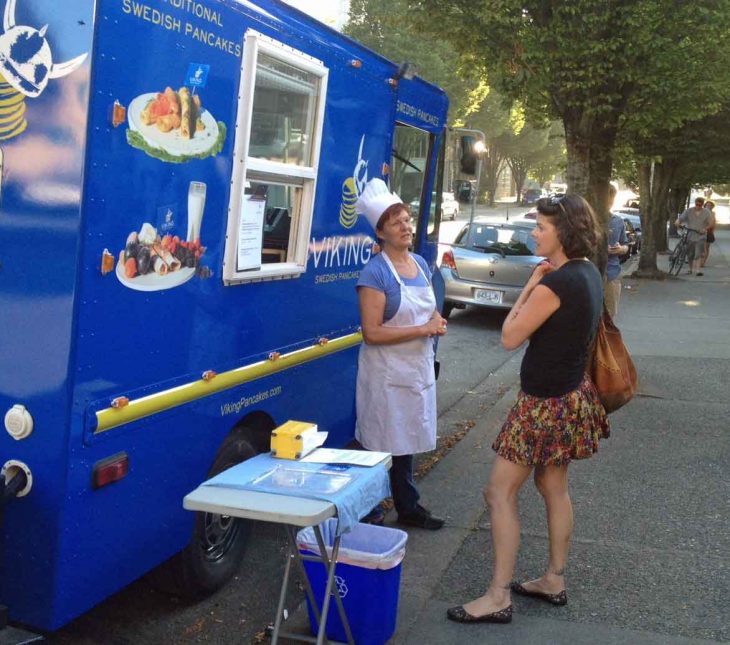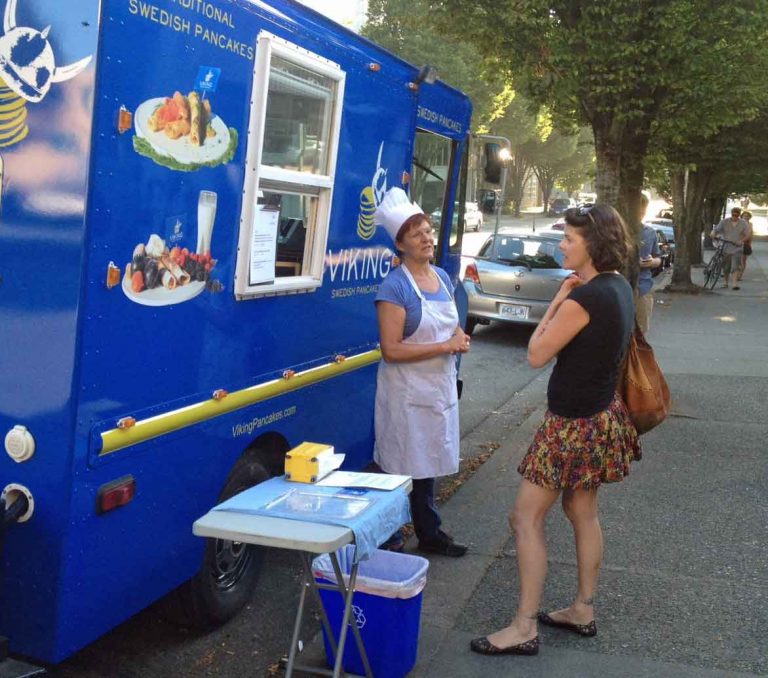 Viking Pancakes – Best Swedish Meal in Vancouver!
I usually write about restaurants but this time I am going to tell you one of Vancouver´s best kept food secrets: Viking Swedish Pancakes – food truck. Authentic Swedish delicacies served with a smile by a charismatic chef. If you are looking for a tasty meal on the go, trust me, this is what you want!
Wanting to know more about Swedish cuisine I met up with chef Birgitta Andersson, a. k. a Bee, for a chat. Here is the interview:
How Did You Get The Idea For a Swedish Pancake Truck in Vancouver?
I am coming from a family of restaurateurs and felt that I had lost contact with the food business, being busy running my sales and marketing company Dagama Travelweb.  During one of my trips to Vancouver I realized that there is no Swedish food truck and I decided to start one. An excellent solution, because it gives me the possibility to work with both Viking Swedish Pancakes and Dagama Travelweb, two industries I love and enjoy!
Please Tell Me About the Food!
I like to keep things uncomplicated and Swedish pancakes are uncomplicated and tasty! For me, the key is a few, but very good ingredients. I make the pancakes from scratch, with organic produce using traditional Swedish recipes. Sometimes even family recipes as in the case with the gravlax (cured salmon). This is the type of food I grew up with and I think everyone should have the opportunity to sample.
Cloudberry jam is very Swedish and I am actually proud to be able to offer it in Vancouver. Of course, jams and berries depends on the season and what I can get my hands on. We do both sweet and savory fillings.
Editor´s note: full menu on vikingpancakes.com.
When Will You Start the Pancake Season 2015 in Vancouver?
I am looking to be open again at the end of April.- beginning of May. Please follow me on Facebook and/or Twitter to get the latest updates. I use social media not only to communicate the opening for the season, but also where I am from day to day during the season. I am very much looking forward to see you again!
Thanks Bee, for taking the time to chat with me about Swedish Pancakes in Vancouver! Want to add something or just get in touch? Please do via email, in the comments below, on Twitter, Facebook or Google+.