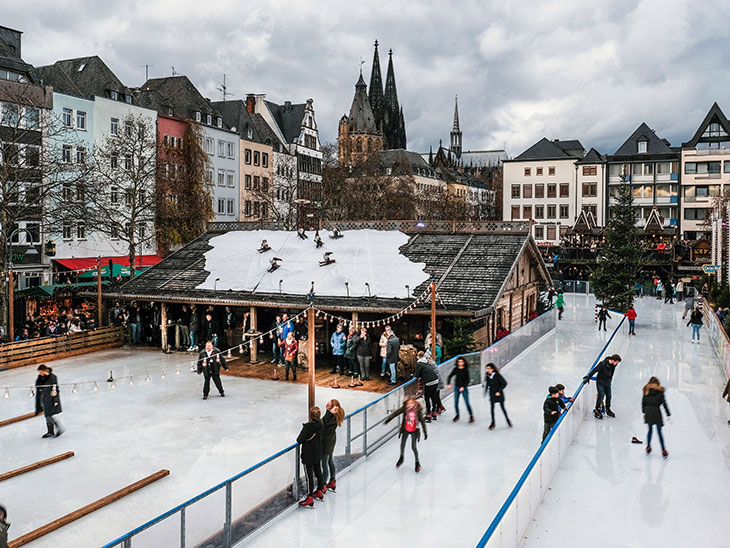 4 Neighbourhoods to Explore in Cologne
Anyone who's been to Cologne knows that it's an amazing city with a ton of history and culture. But what many people don't know is that there are some great neighbourhoods to explore even outside of the touristy centre. If you're looking to explore the city, here are four areas worth checking out in Cologne.
1- Rudolfplatz, Cologne
Rudolfplatz is one of the busiest squares in Cologne, located in the central city district of Altstadt-Nord. It is a popular meeting place for students, with a number of cafes and bars located around the square. The square is also home to one of Cologne's old city gates. Every Christmas, a large Christmas market is held in Rudolfplatz, attracting tourists from all over the world. The area also hosts a street food market every Thursday evening. It is a popular hangout spot especially in the spring and summer months. If you're ever in Cologne, be sure to check out Rudolfplatz – it's definitely worth a visit! Popular restaurants in the area include Nish Nush, Joe Champs and Little Nonna.
2- Friesenplatz, Cologne
Friesenplatz is one of the most popular areas in Cologne. It is located in the heart of the city and is surrounded by cafes, shops, and restaurants. It is well known among people who love their food and drink. Friesenplatz is a great place to people-watch or relax with a coffee or beer. In the summer, the square is filled with tables and chairs from the surrounding cafes and restaurants. It's the perfect place to enjoy a meal or snack while enjoying the sunshine. In the winter, the square is transformed into a Christmas market, with stands selling seasonal foods and drinks, handmade gifts, and more. No matter what time of year it is, Friesenplatz is always an enjoyable place to visit. The most popular restaurants and pubs in the area include Jameson's Irish Pub, Wilma Wunder and Montanara.
3- Chlodwigplatz
Chlodwigplatz is one of the most popular neighbourhoods among locals in Cologne. The area is located in the heart of the city and is home to a number of shops, restaurants and bars. Cologne's famous Chocolate Museum is just a stone's throw away. The square is also a popular meeting place for locals and tourists alike. In addition to its many shops and restaurants, Chlowdwigplatz also features a number of monuments and sculptures. The most popular restaurants in the neighbourhood include Sweet Sushi, Fruh Em Veedel and Casita Mexicana
4- Altermarkt
Cologne's Altermarkt is one of the busiest and most vibrant areas in the city. The square is surrounded by shops and cafes, and is always filled with people walking, talking, and enjoying themselves . In the centre of the Altermarkt is a beautiful fountain, which is illuminated at night. On weekends, the square is often filled with street musicians, providing a lively soundtrack to the hustle and bustle. The Altermarkt is also a popular spot for festivals and events, making it a lively place to be all year round. During the Christmas market season, a big Christmas market is hosted here. Whether you're looking for a place to people-watch or grab a bite to eat, Cologne's Altermarkt is the perfect spot. Unfortunately, the quality of restaurants in the area is questionable as most of them cater to tourists looking for a quick bite. However, there are a few options worth considering. Restaurants I recommend in the area include Peters Brauhaus, Mai Beck and Haus des Doners (great doner kebabs!).
Places to stay in Cologne
When it comes to finding a place to stay in Cologne, there are plenty of options to choose from. Whether you're looking for a cosy Bed and Breakfast or a luxurious hotel, you'll be sure to find something to suit your needs. If you're on a budget, there are several hostels in the city centre that offer affordable accommodations. For those who prefer a more upscale experience, there are plenty of hotels to choose from. The Hilton Cologne is located in the heart of the city and offers stunning views of the Rhine River. If you plan to be in the city for a longer time frame and want some home-like comforts, you can also find affordable rental apartments in Cologne. No matter what your budget or preferences, you're sure to find the perfect place to stay in Cologne.
How to get to Cologne
If you're planning a trip, here's everything you need to know about how to get there. The easiest way to reach Cologne is by flying into the Cologne/Bonn Airport, which has direct connections to major cities across Europe and the world. From there, you can either take a bus or train into the city centre. For travellers from outside Europe, Frankfurt airport may be the most convenient option. You can reach Cologne in under an hour from Frankfurt by train.  If you're driving, Cologne can be reached via the A3 and A4 highways. Once you're in the city, getting around is easy thanks to an efficient public transportation system. With so many ways to reach Cologne, there's no excuse not to add it to your travel list!
Please share best tips on the best neighbourhoods to explore in Cologne in the comments below, on Twitter, Facebook  or Instagram.