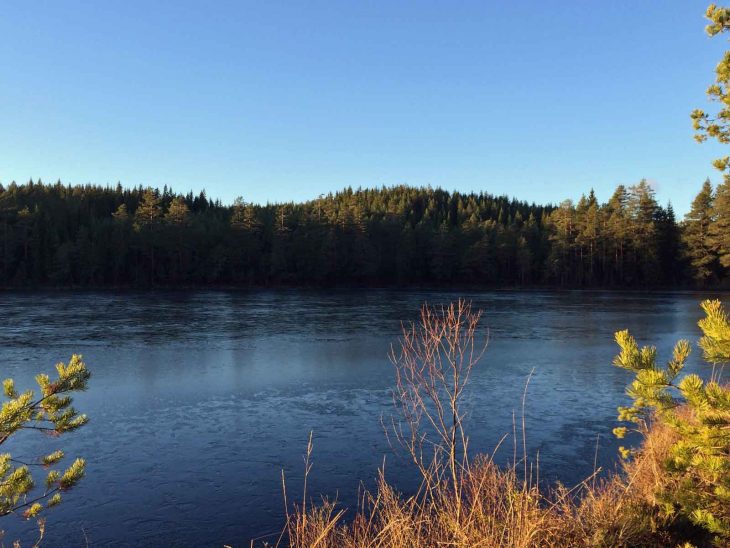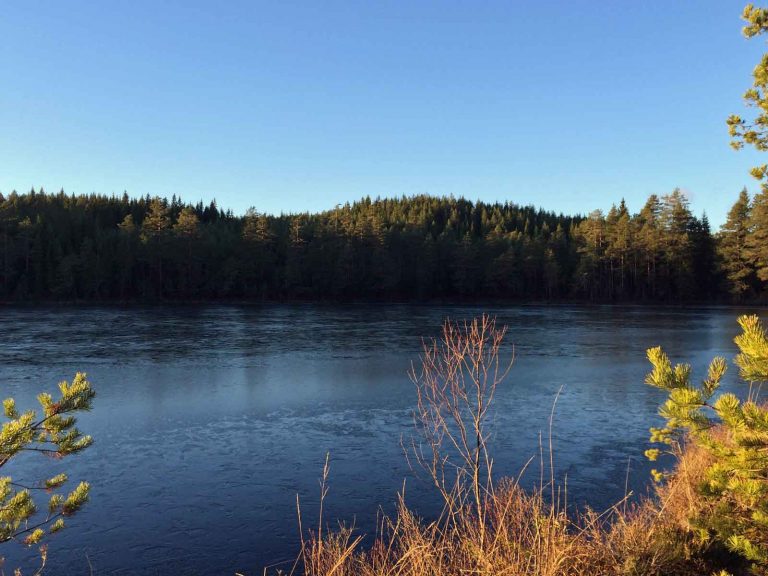 Camp Sävenfors – In the Middle of Nowhere, Which is a Good Thing.
If you are visiting Sweden and looking for an experience out of the ordinary you should definitely visit Camp Sävenfors in Hällefors! If you are looking for something different, involving the outdoors, hunting, fishing and nature in general then this is the perfect place for you.
The house itself is an old wood grinding factory dating to the 18th century with Älgälven (translates to Elk River) flowing just right beside the house.

Location.
In an old mining area called Bergslagen on the boarder of the counties Närke, Värmland and Dalarna. Closest village is Hällefors. The lodge is in the middle of the forest with no distractions close by. Just beautiful Mother Nature.
Getting There by Air.
Fly your plane to a nearby airfield or land your helicopter almost on the premises. If you are flying commercial then my recommendation is to fly in to Stockholm and continue by train, car or chartered plane.
Getting There by Train and Car.
Another option is to take the train to Örebro and then continue by car to Camp Sävenfors. Estimate about 1700SEK (roughly 220USD – depending on the exchange rate) for a one-way transfer from Örebro Railway Station.
All the major car rental companies are present in Örebro which makes it easy to drive on your own, if you prefer. If you are driving, you could drive from Stockholm or Gothenburg to make your trip even more interesting.
Accommodations & Rooms.
Accommodations are fairly basic but quaint and very cosy, with a great deal of charm. Rooms are decorated in a rustic style which is very suitable for being in the middle of the forest.
Be prepared that not all rooms have their own shower. I detest sharing showers with other people because it usually gets dirty but I was pleasantly surprised how clean and well-kept the showers were. The showers are not communal in a sense that you will have to shower with other people, they are designed for one person and you can lock the door.
The main building, which is the most "luxurious" accommodation, offers 10 rooms with a total of 24 beds. There are also 12 cottages and cabins on the premises with 50 beds divided between them, which gives a total capacity of 74 simultaneous overnight guests.

Food and Drinks.
Before visiting I had heard good things about the food at Camp Sävenfors. The snack that was served upon check-in was good and made me want more. Lunch made me extremely pleased and after dinner I was outright enamoured!
The food is of extremely high standard with lots of local produce, game and fish. The staff is specialized and highly skilled in setting up meals in unexpected settings. As an example, I enjoyed lunch by the lake at the end of December.
Conference.
There are 4 conference rooms in total. 2 of the rooms can accommodate 35 guests each and the remaining 2 rooms can accommodate 15 guests each.
The conference rooms are spacious and well lit. This is not a typical "turn-key conference" where everything is set up like at your typical Hilton. These conference rooms are great opportunities but require some work to make the perfect conference.
My recommendation is to hire a professional meeting planner. A company who is experienced with meetings, incentives, conferences and events at Camp Sävenfors is Creative Meetings.
I had the opportunity to interview Max Demalva, Creative Meeting´s General Manager for Southern Sweden not long ago.
Activities.
In the middle of the woods with stunning lakes and unspoilt scenery. Do not miss the opportunity to combine these activities with a splendid meal outdoors, since this will only enhance the experience.
Hunting
The staff at the lodge are avid hunters and they know the area extremely well. They will be able to help you with the perfect hunting experience. All types of big and small game, capercaillie, grouse and partridges can be found in the woods. For many hunters the elk season is the highlight of the year.
Before booking the trip you want to check hunting seasons and learn about hunting in Sweden in general.
Fishing
There are hundreds of lakes in the area with ample opportunities for fly-fishing, spinning, angling and ice-fishing (in winter). You will find trout, char, grayling, pike, burbot, eel and crayfish. Some lakes need a permit which is cheap and easy to get. The staff will help you with all permits and make sure you are getting the best fishing experience.
ATV Safari
ATV is a fun and great way to get to know the surroundings. An ATV safari can be combined with a delicious meal by the lake, shooting skeet and sporting clays or fishing.
Hot Tub
After a day filled with adventure and impressions there is nothing better than to submerge yourself in the hot tub outdoors. Especially on a cold winter's night with the star clad sky sparkling above you.
Who Visits Camp Sävenfors?
I wish this was a hotel where anyone could book a room, but it is not. Camp Sävenfors accepts groups. The lodge is ideal for a group of friends who wants to go hunting and fishing, as an incentive for your staff or if you want a meeting without distractions. The possibilities are endless!
For more information, please visit Camp Sävenfors homepage.
You might also be interested in my other articles about Sweden or "5 Questions You Should Ask Yourself When Arranging Your Company´s Meeting".
Please share your own tips of best hunting and outdoor destinations in Sweden via email, in the comments below, on Twitter, Facebook or Google+.