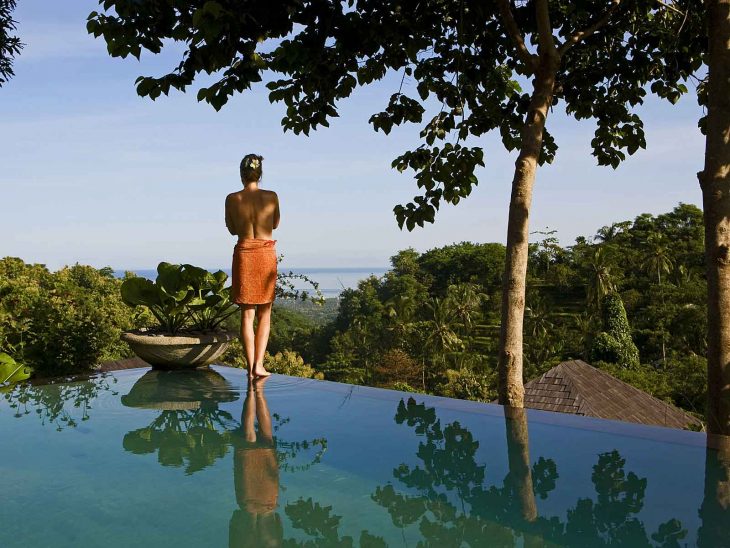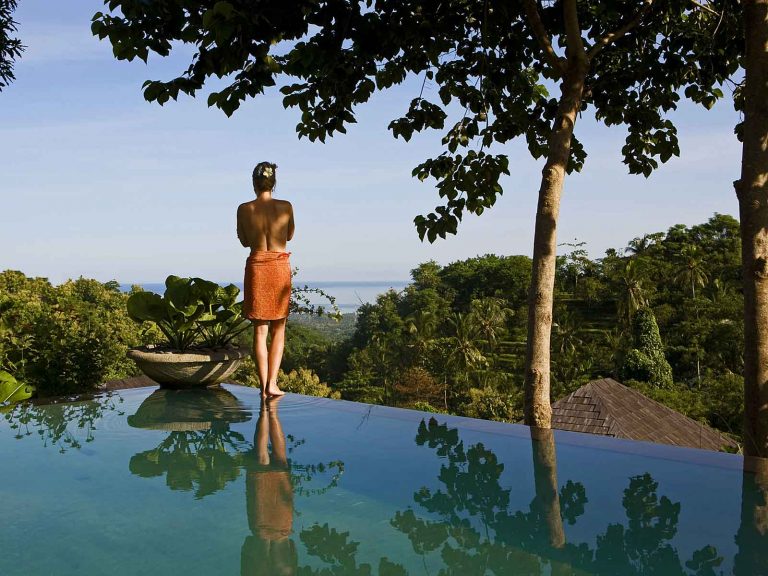 The Damai – a little known gem in Lovina, north Bali.
We started our journey on Bali a few days ago in this post. Today we are looking closer at one of our all time favorite luxury retreats on the northern coast of Bali: The Damai. As we said in previous post, a trip to Bali is not complete if you have not seen the north because it is very different from the south and represents the "true Bali".
It is not far from south to north counted in distance but there are no highways in Bali so do not expect a quick ride. It will take about 3,5 – 4,5 hours depending on traffic and how many stops you are doing. The road goes through a stunning landscape with coconut groves, rice paddies, small villages, markets, monkeys, mountains and lakes. If you buy a package with transfer included, don't be afraid to ask the driver to point out the highlights and stop where you want to. This way the drive will become an experience and a great memory to take home.
In Lovina you can enjoy a visit to the quaint little village, go visit Singaraja which was the capital when the Dutch ruled Bali, play golf in the volcano at Bali Handara Kosaido, go on a dolphin safari, go diving or snorkeling or go horseback riding. Activities are not a problem, the staff is knowledgeable and helps you chose your activities. I don't think activities will be a problem because my experience is that most guests don't leave the hotel much, but it is always good to know that there are activities available.




You have two types of accommodation to chose from at The Damai, Garden villas and Pool villas. Standard wise, the Garden villas are nice, 4-star+, nicely decorated with all the amenities you might need. The majority of the them have a private jacuzzi besides the outdoor shower.
The Pool villas were added a few years ago across the small gorge and are extremely well thought through, both in terms of decoration and layout. As the name suggests, the pool villas all have private pool and situated so you can go skinny dipping without having your neighbor watch.
The garden villas are part of the first layout of the hotel being closest to the main building with open air restaurant, bar and a small pool where fires are lit after sunset. A word about the pool, because some guidebooks and agents claim this is one of the biggest on Bali, which only means that the writer has not seen the pool in real life. It is small, but neat. The open air dining room is on the second floor where there is served succulent food. The restaurant is well known and attracts outside guests for the quality of food. The Damai used a slogan "Bali´s Gourmet Retreat" and the kitchen serves excellent Balinese and western dishes. In general, you eat well in Bali and this is probably one of the best places for foodies.
To conclude: Damai is a beatiful hotel filled with understated luxury. Thank you for reading and I hope you enjoyed reading about the best luxury retreat on north Bali!
If you want to discover more of the The Damai, please visit their homepage. If you are planning a trip to Bali, you might want to check out my favourite hotels or my favourite places for a drink on south Bali.
If you are in to yoga, healing or detox & raw food you definitely want to check out Karin Tydén´s reports. All articles tagged Bali.
I would love to hear about your favourite luxury retreats on north Bali via email, in the comments below, on Twitter, Facebook or Google+