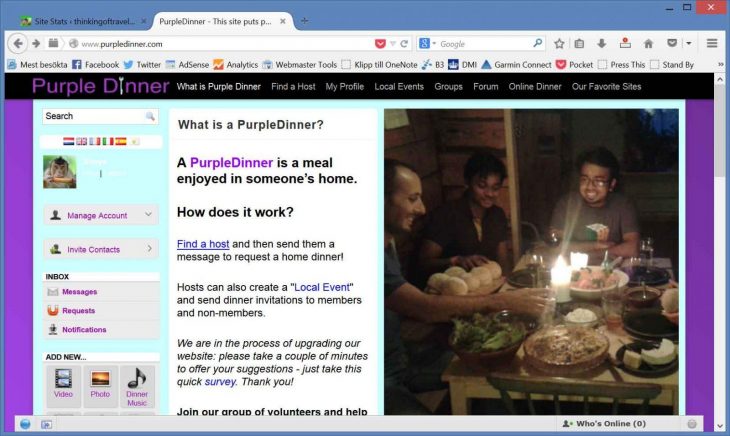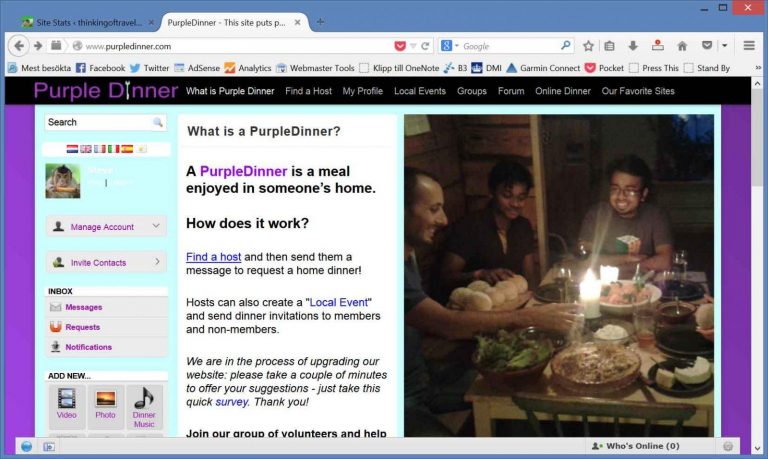 Dine With A Local – Interview with Greg Taff from PurpleDinner.com
Have you ever wanted to get a dinner invitation to someone in the country you are travelling, to learn more about local cuisine, customs and the community? Or would you prefer to invite a fellow traveler for dinner to get inspiration from someone on the road at the moment?
Then you should go to purpledinner.com which is a site which matches dinner guests and dinner hosts all over the world. The concept is similar to couchsurfing.org but many people (including myself) think that spending the night one someone's sofa is too much, but anyone can handle dinner for 2 hours.
Dinner is the primary idea but there is nothing stopping you if you want to include a tour of your neighborhood, a trip to your favorite art gallery or museum as a part of the experience.
Greg Taff, is a former geography professor and an avid traveler working out of Tromsø in Norway, is one of the creators of this ingenious site and I was lucky to get the opportunity to ask him a couple of questions. You will find questions & answers below.
How did you come up with the idea for PurpleDinner.com?
I was travelling in Florida with a friend 6 or 7 years ago and got lost in Miami. We ended up in a residential neighbourhood. The time approached 6PM and we were getting hungry and could see people preparing dinner in their kitchens and lighting up barbecues on their patios. I love small dinner parties and inviting friends over. This is where I wanted to have a friend to invite me for dinner in this neighbourhood and the idea for purpledinner.com was born.
How did you come up with the name?
We wanted a fun name that will be remembered and inspire people to be creative with their meals and the guests experience. The site is not only about satisfying hunger but also about meeting people from all parts of the world. In other words, the goal is to dine with a local.
It is usually meeting people who makes the trip a success . We have some profiles where eating is secondary. Purple is a fun and creative colour and we want to inspire to do more than just eat!
Who is using purpledinner.com?
We launched earlier this year and still in a buildup phase with roughly 600 members in 80 countries and still growing. Our members are all kinds of people but to mention a few:
Travelers looking for a fun cultural activity on their vacation.
Families with children using the service to connect with other families with children, creating a play date for the children at the same time.
We have one member in a small village in Thailand who started a non-profit group called "The English Speaking Club" where visitors are offered both housing and board.
People with dietary requirements because sometimes it can be hard to find halal, kosher, vegan, allergy friendly food or such on the road. Meeting up with someone with the same dietary requirements as yourself is usually a very good source of information.
We have many users in the USA, Norway (of course) Eastern Europe and Russia.
It is all about people and we are continuously growing, which is nice to see.
What does it cost?
The service of connection on purpledinner.com is free of charge and it is up to the individual host to charge for dinner or not. My advice is to understand if there are any charges before going to dinner, in order to avoid any embarrassing situations.
The main purpose is to meet, interact, maybe learn something and have fun. In some countries 20 or 30USD is a great contribution to the household and makes a difference for the family. A similar dinner in a restaurant would probably cost more, so I see this as a win-win situation and a great opportunity for all parties. it is always nice to bring a small gift or bottle of wine to dinner if the host does not charge.
The PurpleDinner website will soon offer an opportunity for guests to pay a host online – if the payment is made in this way, PurpleDinner will charge a fee of approximately 1-2 Euro for the transaction charges involved. Note that payment in cash in person is allowed, so paying this fee is not mandatory.
Are the any romantic stories?
No, we recommend to get married at the earliest six months after a PurpleDinner and we have only been up and running since July, so there are no marriages yet. Jokes aside, if you have made friends for life or more, we would love to hear from you. Please drop me a message on purpledinner.com.
What about safety?
Safety is our biggest concern at all times. We do have a list of tips on how to stay safe on our site. My personal recommendation is to have a short Skype-session with the person you are going to meet before the actual meeting. When you finally meet, I recommend that you meet up on the town before going to for dinner.
As always when it comes to personal safety the main recommendations are to listen to your inner voice and intuition, stay reasonably sober and remove yourself immediately if it does not feel right. If you, god forbid, should encounter threatening situation then call the local authorities immediately.
Our review system is a great indicator and if you have had a bad experience we do want to know so we can blacklist the person. There is always a risk when meeting other people, but with proper caution, you can minimize these risks, and have a safe and very rewarding experience.
Etiquette and cultural differences?
This is actually what makes dinners with foreigners so interesting. I love meeting people from all parts of the world and if I am unsure about local practices and habits, I usually send the host an email explaining that this is my first time in his part of the world and ask for tips.
Bring an open mind and manners to dinner and I am sure you will be alright.
What does the future bring for purpledinner.com?
We have lots of interesting things on our list. The most exciting is that we are launching a new site soon. The updated site will be more intuitive and easier to navigate.
Purpledinner.com is a project of the heart and we are looking to grow organically, together with our members and all aspects of the site in sync.
One last question, how did you end up far up north in Tromsø?
I was travelling in Scandinavia and met a person on a train who invited me to drive reindeer in Gällivare, Sweden. From there the ball just kept rolling. If you are interested in the story, please visit http://www.youtube.com/watch?v=wAqDL258cZo where I explain how it all happened.
Editor´s Conclusion
This is a great idea and I will definitely try it for me next trip! Personally, I would like to try it before I invite travelers into my home, but that is just me. If you are looking to join or to obtain more information, please visit www.purpledinner.com.
Have you tried to dine with a local with the help of purpledinner.com? Please share the experience with me on Twitter, on Facebook or in the comments below.