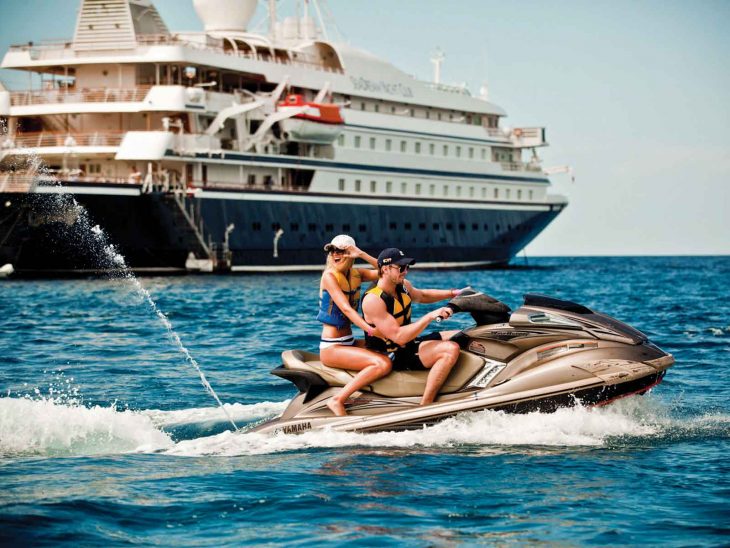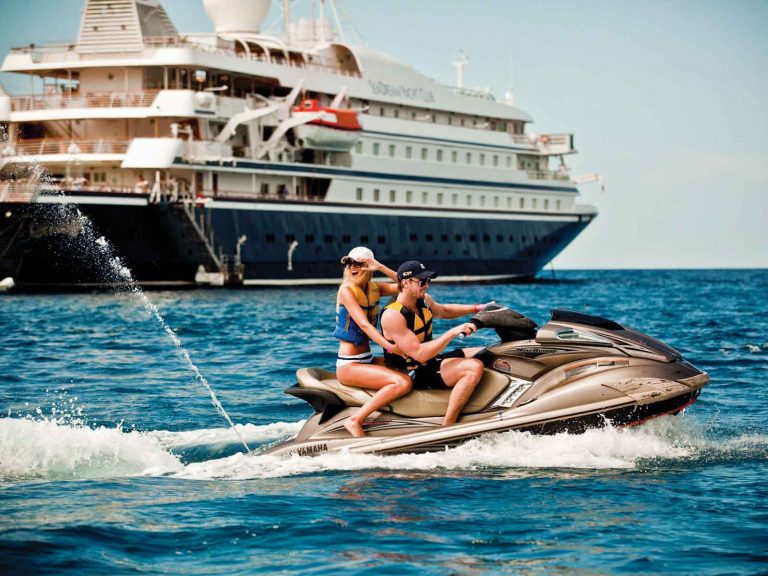 Does Size Matter in Cruising? We Look at SeaDream.
Cruise business is growing bigger and bigger for every year and so are the ships. Is bigger always better? I am not sure because usually less is more. I have tried both the mega-ships and the smaller ones and my recommendation is SeaDreams smaller boats, without a doubt. Read on and you will find out why.
Size Matters or Less is More in Cruising!
SeaDream I & II are 105 metres long which means they can moor in almost port of call. I enjoyed a lot being moored next to La Ramblas in Barcelona and being able to walk off the ship, straight into the city. Guests on bigger ships are forced to moor at the Cruise Terminal and have to travel by bus to the city. Barcelona is only one example among many.
Size is also an important factor when considering logistics. Fewer people takes less time to get on and off the boat.
All-inclusive Gives you More Time Ashore.
Basic meals are included on most cruises and you pay for drinks. This means there is an incentive for the cruise company to get you on board quickly so they can sell you drinks. On SeaDream drinks of all kinds, including champagne and premium brands, are included in the price. In other words, you will get more time on shore. That is if you want because you are welcome to stay onboard all day, if you like.
Many cruise ships offer a wide array of specialty restaurants.  If you are unlucky, those specialty restaurants can be fully booked and you have to eat your steak at midnight because that was the only available time in the steak-house on board.
Personalized Service.
The ratio staff to guests is almost 1 to 1. OK, we have counted the captain and the maintenance people in this comparison, but still it outnumbers any big cruise ship. The captain is present and has the passengers best for his eyes. Within 24 hours all staff had found out what I like to be called, restocked the minibar when they realized I like beer and the monogrammed pyjamas was the icing on the cake. This is actually my first and only monogrammed sleeping wear and I treasure it!
The Marina & Being Outside.
Yes, it is true. SeaDreams ships has a marina with dinghy´s, jet-skis, kayaks and much more. The marina is open where it is legal with toys like this and possible due to weather. In other words, expect the marina to be used when cruising in the Caribbean. Maybe not so much in the Mediterranean.
SeaDream I & II can serve meals al fresco for all passengers at the same. If you are from a cold country you will absolutely and without a doubt enjoy dining outside. Big ships cannot simply offer this and is an orgy in air-conditioning.
No Children Under 13.
OK parents, please don't start a riot now! SeaDream allows children over 13 years of age. I can understand this policy and think it is good. If you have spent your hard-earned money on the perfect cruise, you deserve some peace and tranquility.  At the same time, I can understand those who thinks this is a ridiculous policy. Let me put it this way, I would not go on a Disney Cruise and complain that there are children on board. OK, we are all still friends?
The Small Things That Makes a Huge Difference.
Small things like golf simulator, movie screening by the pool, being able to sleep under the stars, the marina (deserves to be mentioned again), the guitar player in Top Of The Yacht Bar, the Boutique with accessories from D&G, Gucci, Raymond Weil and much more.
Some people have the impression that it is very formal on board a ship like this. People are on vacation and are usually very friendly. If you want to go formal, then do it. During my cruise I saw a couple dressed up in evening gowns and tuxedo for their anniversary one night and the rest of the cruise they wore smart casual attire when dining outside.
What About Price for the Cruise?
Some people look at the price tag and thinks "ouch, this is out of reach". Well, it might not be. Yes, you pay more when booking the cruise with SeaDream but the bill when disembarking is almost zero. Everything except spa and Internet is included in the price. If you book a nice cabin on a regular cruise, have a few drinks (which you definitely will) on-board and eat in the specialty restaurants you are not far from a cruise with SeaDream.
If this type of ship does not appeal at all to you, then it is probably not for you. But if you like the thought and in doubt I think you should do it. Please just don't blame me if you are getting hooked.
You will find more information on seadream.com. Please share your thoughts and tips in the comments below, on our Facebook, Google+ or on Twitter.