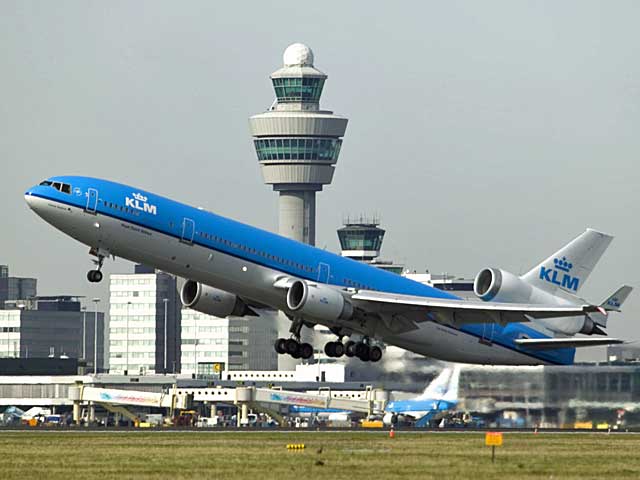 Win Two Last Tickets for KLM's MD-11 Farewell Flight in the contest.
KLM Royal Dutch Airlines has kept the MD-11 in passenger service the longest but are now retiring it. The three commemorative "Farewell Flights" sold out in minutes after going on sale but you now have the chance to win the 2 last tickets for the last flight on 11th of November!
This iconic plane has been available in several different versions and flown by Finnair, EVA Air, American Airlines, Brazilian VARIG, Colombian Avianca, China Airlines from Taiwan, Delta Airlines, Ethiopian Airlines, Etihad Airways, Garuda Indonesia, LTU from Germany, Malaysia Airlines, Philippine Airlines, SABENA (now Brussels Airlines), Saudia, Swiss and Thai Airways to mention a few. The majority of aircraft are now sold to cargo operators. Finnair sold their last MD-11:s to Aeroflot Cargo, American Airlines sold theirs to Fedex, JAL sold theirs to UPS and Korean Air converted their passengers planes to freighters after retiring from passenger service. You will find a full list of MD-11 operators on Wikipedia.
The MD-11 was initiated in 1986 by aircraft manufacturer McDonell – Douglas as a derivative to their famous DC-10 aircraft and they had 52 firm orders on December 30 that year. Assembly started on 9th of March 1988 where the first 2 aircraft of the production line were intended for FedEx and stayed with the company as test aircraft until 1991 when they were delivered to the customer. Yugoslav Airlines, already flying several DC-10s, became the first customer of the MD-11. Three aircraft were manufactured but were never delivered due to war in Yugoslavia. The first MD-11 was delivered to Finnair on December 7, 1990 and it accomplished the first revenue service by an MD-11 on December 20, 1990, carrying passengers from Helsinki to Tenerife in the Canary Islands. MD-11 service in the U.S. was inaugurated by Delta Air Lines, also in 1990. More information on Wikipedia.
Simply answer the questions on http://byebyemd11.klm.com and you can win nice prizes such as scale models, a headrest cover from the very first flight, a simulator training and even MD-11 components, plus a whole lot more! The grand prize is of course 2 tickets on the final flight, including tickets to Amsterdam and a hotel night in Amsterdam. The KLM contest ends Thursday 30 October.
For more great pictures of this aircraft, please head over to http://www.airplane-pictures.net/type.php?p=91
Good luck! If you win, I would love to see you as a guest blogger here. Let me know on Twitter, on Facebook or in the comments below.