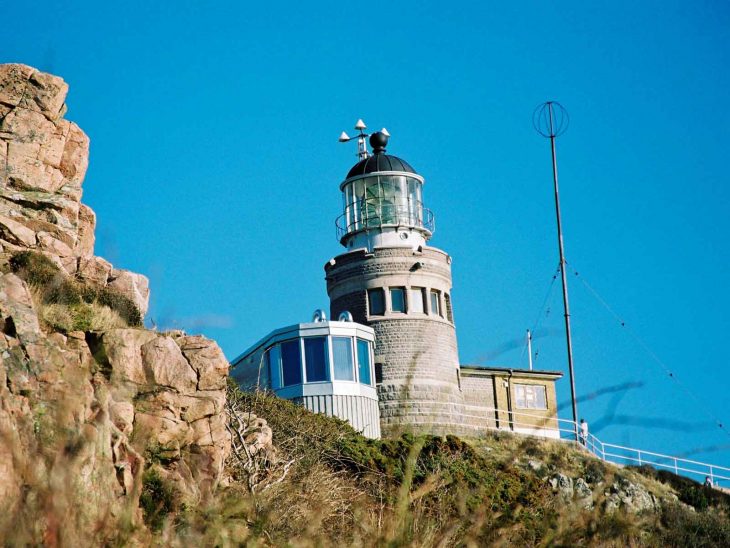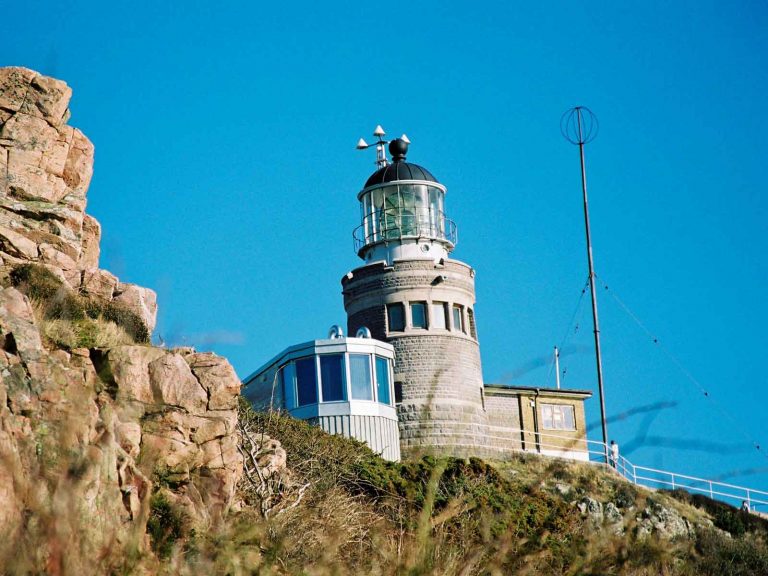 Review of Falknästet at Kullaberg, Sweden.
On my quest for unique experiences I booked a night at Falknästet on Kullaberg. Falknästet means the Falcon´s Nest and with its post-war heritage, it is a suitable name. I honestly did not know what to expect when arriving on a stormy, slightly gloomy, evening in May.
I feared that the stormy weather would ruin the experience but watching the waves land on the cliffs below, rain fronts and cloud formations coming in and listening to the gale force winds was thrilling and much better than I ever imagined. I can confirm that it is an experience well worth the trip to southern Sweden in any type of weather and most likely nothing you have experienced before!
What is Falknästet?
Falknästet (Falcon´s Nest in English) is a former observation post located on the cliffs by the light house on Kullaberg (Kullens Fyr in Swedish), about 70 metres above sea level with a stunning view over Kattegat Sea. The fort was converted in to a hotel room in the 1990´s and panoramic windows was installed together with the bed suspended from the ceiling.


Location and How to Get to Falknästet.
As previously mentioned it is at the base of Kullen Lighthouse which is a nature reserve. Having a car is without a doubt the most convenient way to experience the region and to get here. It will take about 1 hr 45 minutes' drive from Copenhagen Kastrup Airport (Denmark) via the Öresund-bridge or about 3 hrs drive from Gothenburg Landvetter Airport (Sweden).
You can also reach Kullens Fyr by bus from Mölle with acceptable connections to the rest of Southern Sweden and Copenhagen Airport. By public transportation it will take you around 3 hrs from Copenhagen Airport with 4 changes if travelling over the Öresund-bridge.
Once checked in you can explore the area by car, bike or by foot. The walking trail to the village of Mölle is 3 km and a nice hike.
Accommodation at Falknästet.
The only room in the former observation fort is of 4,5 star standard without a doubt, but keep in mind that this is not a large hotel with an army of staff waiting to serve you. Once checked in you are pretty much on your own, which I enjoyed immensely! No housekeeping bothering with turn down or minibar refill will let you focus on the scenery, the book or company you brought to the Falcon´s Nest.
The location, the view and the uniqueness is 5 out of 5 and also the reasons for staying at Falknästet. If you are looking for a honey-moon out of the ordinary or just want to spoil yourself, this is something you should do.




The bathroom is fully stocked with all regular amenities like hand soap, shower gel, shampoo and such. There is also a refrigerator and some table-ware if you want to bring a snack.
The room is climate controlled which means you will be comfortable in all types of weather.
Conference at Falknästet
If you want to get away from it all and do not risk bumping in to colleagues and co-workers at your regular conference venues, this is a great place where thoughts and creativity will flow. You will have plenty of room around the suspended conference table (which doubles as a bed) if you are 4 – 6 people.
Remember this is an old fort with thick walls that makes cell phone reception sketchy. There is no internet in the building. This can be good or bad depending on what type of meeting it is, but if you want free flow and creativity I personally think cell phones and internet is just a distraction. You can easily step outside and handle your calls during a break. As always, no matter if we are talking about accommodation or conferences, it is important to find the right venue for the right occasion.
Screen is already installed and just to be pulled down from the ceiling. Projector is free of charge but has to be requested in advance.
Activities at Falknästet.
There are plenty of things to see and do around The Falcon´s Nest. Take a pick or book 2 nights to be on the safe side. Another idea is to combine Falknästet with one of the classic seaside resorts in Mölle village.
Golf.
You are close to Mölle Golfklubb where you will enjoy sea view from 16 of 18 holes. This is one of Sweden´s most scenic courses and also one of the oldest. The course was inaugurated in 1943 by His Majesty Crown Prince Gustav Adolf and has not been altered much since then.
Trekking.
There are several trails to choose with varied flora and fauna. Some people consider this a trekker´s paradise! Bring comfortable, rubber-soled shoes to explore the steep and stunning cliffs.
Visit naturum.
Naturum is government organization with a mission to educate about flora and fauna in different parts of Sweden. There is an excellent visitor´s centre neighbouring The Falcon´s Nest where you will get a great introduction to the nature reserve. Here you also have the opportunity to pet starfish, crabs, sea urchins, fish and other creatures living in the sea by Kullen.
Porpoise Safari
This is the only type of whale living in Swedish waters all year and quite common around Kullen. In season there are scheduled safaris with RIBs.
Snorkelling Safari
If you like snorkelling you should absolutely try a snorkelling safari at Kullen. Obviously it is not a case of warm, crystal clear waters but you will be amazed with the multitude of species living in the northern hemisphere.
GPS Cave Walk
If you are in to caves (no pun intended) this is something for you. You will explore 5 caves, including Trollhålet, on Kullen. Pick up your GPS at naturum and you are on your way.
Abseiling
Equipped with climbing gear you will abseil down a 13 metre cliff at Kullaberg. Of course there will be an instructor on site to supervise and assist.
Coasteering
Coasteering is a combination of snorkelling, abseiling and cliff diving. This tour lasts for 3 – 4 hours and is very physical and something out of the ordinary.
Kullabergsguiderna is the local activity company who arranges porpoise & snorkelling safaris, cave walks, abseiling, coasteering and more. The company received the Swedish Grand Travel Award as "Best Eco Tourism 2015". If you have something special in mind, do not hesitate to contact them. They are service-minded, flexible and aim to please.
Conclusion
This is an experience out of the ordinary and "exotic" even for the locals. I can see this as a highlight of a tour of north-western Skåne since it is a unique experience not to be found anywhere else.
A visit to Kullaberg can easily be combined with the attractions mentioned in "5 Things to Do Around Båstad".
Do you have questions or comments about Falknästet (The Falcon´s Nest)? I would love to hear from you via email, in the comments below, on Twitter, Facebook or Google+.