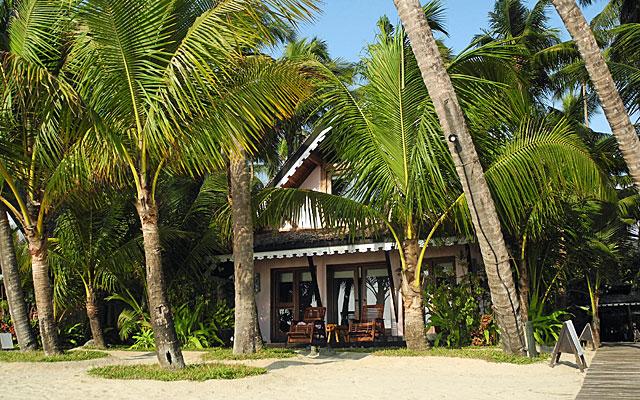 We look at Sandoway Resort in Ngapali, Myanmar.
I was fortunate to being given the opportunity to stay at and inspect Sandoway Resort in Ngapali during my trip to Myanmar (aka Burma) and it was a very positive experience. I was very sceptical after having seen their homepage and figured that the hotel should be of the same standard. I was wrong, very wrong! The hotel is a lot fresher and better than its homepage and it was a joy to stay there. Hang on and I will give you the review below.
Getting here
The easiest way to get here is to fly in from Yangon, Mandalay or Bagan Tourism is booming in Myanmar right now so new routes can be added with short notice. The airport is one the smallest I have seen in a long time and both arrivals and departurers are handled quickly. Many hotels run restored WW2 buses for the airport transfer which is a lot funnier and nicer than a modern SUV.
The airport does not have many technical aids which means that weather conditions can create delays and my recommendation is to plan for at least 1 night layover in Yangon between domestic flight in Myanmar and international flight going home. There are no interline agreements between the airlines operating in Myanmar and the international airlines serving Yangon and if you miss your connection home you are out of luck. In a normal case it means buying a new ticket and getting a hotel room for the night but the problem is that it is very hard to find a room in Yangon ad hoc. You probably want to read the article with tips for your trip to Myanmar.
The Premises
The main building contains reception, restaurant and bar overlooking the sun deck where you also can dine and drink al fresco. I enjoyed the food a lot at the restaurant since it was well made and nice little extras as fresh bread sticks and tomato salad which was excellent after a hot day on the beach.
There is a library, spa and a cinema room at the hotel. Classic contemporary movies are shown every night at 9PM. There is a large pool area next to the restaurant and you can have your lunch by the pool if you so wish. The restaurant and pool are connected by a deck which is a great place for a sundowner.
There is a clinic sponsored by the hotel just across the road which is probably the best CSR in a country like Burma.
The Rooms.
There hotel offers several different room categories but you will never have more than 50 steps to the beach, which is nice. There is nothing worse than booking a beach front property and then being slammed up on the hill miles away from the beach. This is not the case here.
All rooms have electricity 24 hours (not always granted in Myanmar), air-conditioning, fully tiled shower and WC, patio and bed with colonial style mosquito net which is both nice looking and practical. The bath room at my beach villa was huge with a sunken tub, shower and a big dressing room.
The Beach & Village
The beach is white, wide and not heavily populated. As always in Asia, the locals come down to the beach to finish their day with some soccer, a dip in the ocean and a chat with their friends. I only found one beach bar that was not obviously a part of a hotel but I guess this will change soon.
Someone said that Ngapali is like Phuket was 40 years ago. Unfortunately, I am not old enough to agree or disagree but I am sure that person is right. There are a few restaurants and bars, even an art gallery but not much else. Once again, things change quickly in Asia and I think this will change soon.
To sum it all up: I enjoy Ngapali immensely and enjoyed my stay at Sandoway Resort. Please do not miss my tips for travellers in Myanmar if you are planning a trip. This concludes my short review of Sandoway Resort in Ngapali.
Edit February 2015: Ngapali was voted one of the 25 best beaches in the world in Tripadvisor Traveler´s Choice.
Do you have questions, comments or thoughts about Sandoway Resort and Ngapali Beach? Please share them via email, in the comments below, on Twitter, Facebook or Google+.