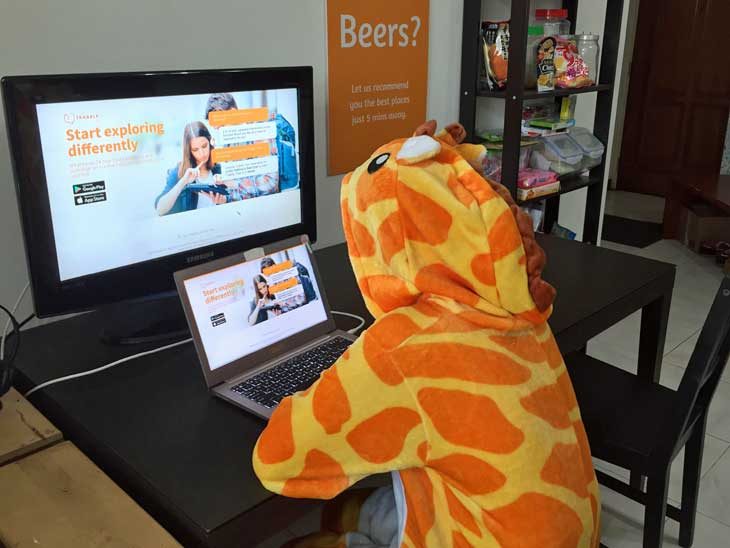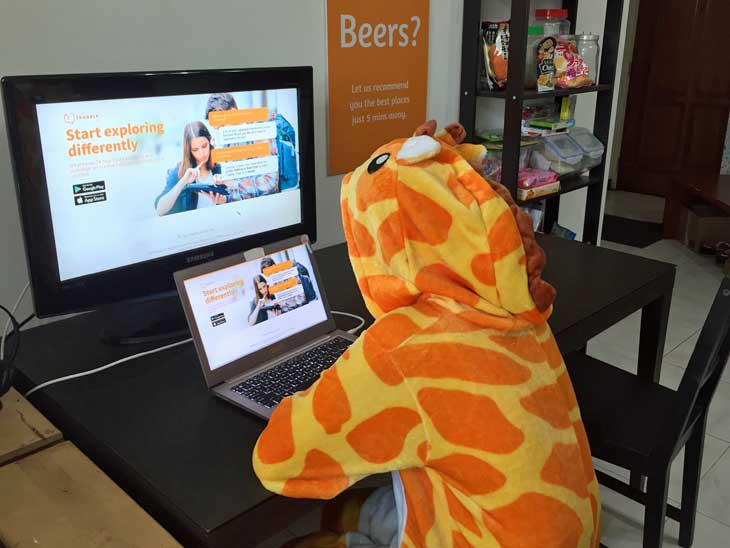 Your Free Concierge in Singapore – Trabble the App!
I was doing some research on a venue in Singapore lately and stumbled over Trabble, which is a concierge app for Singapore. I am usually skeptical to app guides and app concierges but decided to give it a go anyhow. Boy, I was in for a positive surprise! The app has given me spot on recommendations each and every time I tested it.
About Trabble
I was lucky to get a moment of Yen Woon Yau´s time. She is the Chief of Marketing and says: Trabble was conceptualized with Jian Liang Low's friend Joshua who runs the largest hostel accommodation chain in Singapore. Due to the increasing manpower costs of the front desk operations as well as a move towards self-check in automation, the idea for Trabble came about as a specialised mobile concierge service to provide a one-stop travel solution for savvy travellers who want quick access to recommendations and services on the go. In summary, we want to change the way people travel by giving them easy access to local resources and recommendations in a 24/7 chat-based concierge format.
Setting Up Trabble is Easy
Download it for free from Itunes App Store or Google Play. The first time you start the app you are asked to create an account or log in with Facebook. I logged in with Facebook and a click later I was asked to choose interest and personality from 4 different visitor types. I like to consider myself super chill (even though my closest might not agree) and chose the personality "Ice Khoo". Now I am all set to use the app. If you want to change your personality later on, it is no problem to do so.
Using Trabble Singapore Concierge App
When starting the app I get a recommendation to visit Haji Lane, which is an area I like a lot. Maybe a little predictable, but it is still solid advice and a good recommendation.
First Question in Trabble Chat
I asked for best bar in Singapore for a sundowner before dinner and got good tips on high quality bars: CE LA VI at Marina Bay Sands, 1-Altitude, LeVel 33, 5 on Emerald Hill, FIVE Izakaya Bar, Loof and a personal favourite: Mad Men Attic Bar. These are all bars I have been to and like a lot. In other words, a good match!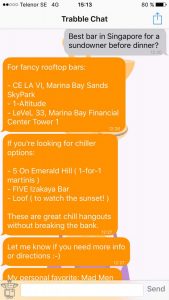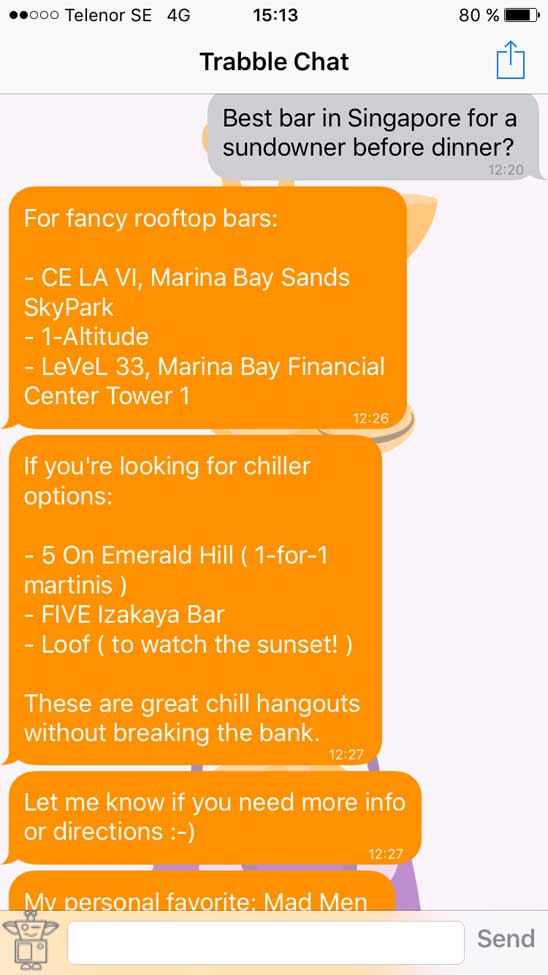 A day later I am asked in the chat if I managed to check out any of the bars and when I reply that I haven't, but likely will do so on Friday night I get a reply "Great! Let me know which area you are looking at so we can best recommend." It was a totally unexpected follow-up and I felt that my Friday night is in good hands.
Second Question in Trabble Chat
Next day I asked "I am staying just behind Raffles Hotel and would appreciate a place for breakfast that is inexpensive. Many thanks in advance!". Within minutes I had an answer: "For breakfast, if you have yet to try Kaya Toast, that´s definitely a must. Check out Ya Kun, a popular local chain for just that. You can try it at Raffles City Shopping Centre at the basement. Let us know if you would like more recommendations to order or directions there".
According to Yen Woon Yau at Trabble, the responses are a combination of AI and a team of concierges. It is very well executed and I have a feeling of being taken care of when using the app.
Future For Trabble
The app went live a few months ago, and boasted more than 600 users in its first month with little to no paid advertising. In the future, it is to be rolled to other countries starting with the beta version in Tokyo at the end of the year. For more information, please visit http://www.trabble.co/
Contest
The good people at Trabble are running a contest on their Facebook page (@asktrabble) now till Sep 15, giving away 'The Singapore Experience' package worth up to SGD650 including a free airbnb stay and home-cooked chilli crab meal. Do check it out!
Conclusion
This is the first time I have felt that I have gotten personal recommendations in an app. Usually apps are flooded with generic recommendations but Trabble is different. I think they are on to something big, and I hope so because the world needs better concierge apps.
A great app I will use during my next trip to Singapore! If you need more inspiration before you go, please check my articles about Singapore.
What are your thoughts on concierge apps and guide apps? I would love to hear from you via email, in the comments below, on Twitter, Facebook , Instagram or Google+.