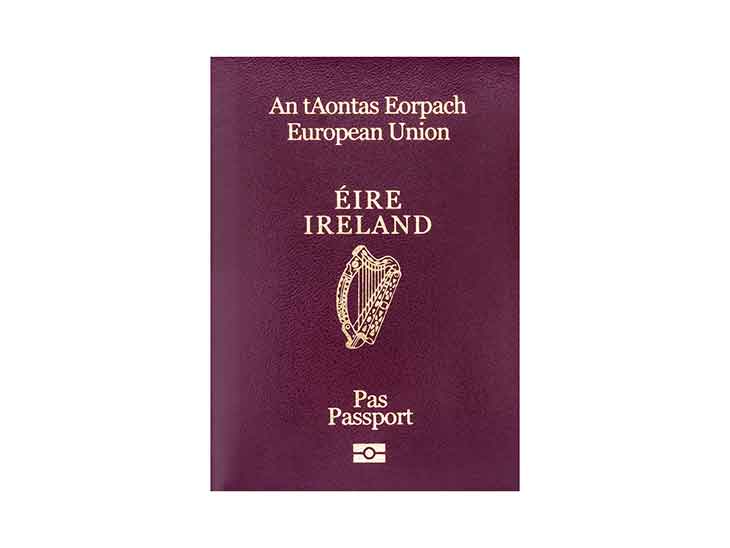 Top Benefits of Obtaining an Irish Passport
The Irish passport is among the strongest travel documents worldwide. Occupying the fifth position in the global passport index ranking, there are many benefits to derive when you become an Irish citizen. If you are considering obtaining a second passport, Irish citizenship could be your best bet.
How to Obtain an Irish Passport
The Irish passport application is a straightforward process. However, just like every citizenship procedure, applicants are required to meet some eligibility requirements and undergo certain stages. You can be an Irish by birth or descent. However, if you don't qualify for any of these, you may become a naturalized citizen. Becoming a naturalised Irish citizen involves a long residence period on the correct residence permit (primarily for work or family reasons). This period spans a total of five years accrued over a nine-year timescale with few and brief absence periods. You must also ensure that you don't overstay any of period during this timescale, as that would seriously hinder your chances of getting your citizen status.
If you are a permanent resident in Ireland, you may be entitled to many of the benefits accorded to Irish citizens. However, your travel capabilities will still be limited by your current passport (provided it's not among the top five passports).
After a successful Irish passport application, you'll have your Irish passport issued. You can select between the standard 34-page passport or the bulkier 66-page passport if you are a busier traveller (for a heftier fee).
What Are the Top Benefits of Obtaining an Irish Passport?
Among the chief benefits of securing an Irish passport, you'll find the following:
Visa-free or eVisa/Visa on Arrival Access to 187 Countries
As of this writing, Japan and Singapore are the best passport issuers worldwide, granting access to 192 destinations. However, Irish and Portuguese passports allow frictionless travel to 187 locations, which is more than what's currently permitted with an American, British, Australian, or Canadian passport.
Ireland's ongoing membership in the European Union has made its passport a desirable choice for British citizens. 2019 saw a steep rise in Irish passport applications by British citizens, doubling the 2016 statistics. This sudden spike is undoubtedly owed to the UK's decision to withdraw from the EU and its effect on its citizens' freedom of movement.
As a holder of an Irish passport, you can choose to live, study, and work in any of the 27 European Union countries, as well as those of the European Economic Area (Iceland, Liechtenstein, and Norway), Switzerland, and the UK without needing to go through a strenuous visa application.
You may also travel to other non-EU countries inside Europe, such as Georgia, Andorra, Albania, and Serbia. Georgia allows Irish passport holders to stay for a maximum of one year without needing a visa, while the other countries mentioned grant a 90-day stay.
Across the Atlantic, you'll find other attractive locations for visa-free (albeit time-limited) stay, such as the United States, Argentina, Bahamas, Belize, Grenada, and Brazil, all of which concede up to 90 days or three months.
In total, there are over 110 countries that kindly offer unrestricted entry to Irish citizens, some of which authorise total freedom of movement.
Other countries, while not as lenient, courteously provide quick pathways for legal stay. These pathways are the eVisa and the "Visa on Arrival".
The process to obtain an eVisa is entirely done online, including the payment. You don't need to go personally to any consulate or embassy though you still have to send digital copies of your documents along with your online form.
Some countries require that you fill out the form and await approval before arrival, such as Australia, Azerbaijan, India, New Zealand, or Russia. Others, such as Cambodia, Egypt, and Saudi Arabia, will enable you to submit the eVisa petition upon your arrival.
If you want to travel to the United Arab Emirates or Bangladesh, you can get a visa on arrival by going personally to the corresponding visa booth at the airport.
One of the Easiest Passports to Renew
Ireland awards its citizens a quick Irish passport renewal through the Passport Online service.
To proceed with a renewal, you only need to upload a photo of yourself. You can use your own smartphone or digital camera, but it can't be a selfie or a zoomed-in picture.
Alternatively, you can have your picture taken by a participating photo provider (such as a pharmacy). They can email you the digital files, store your pictures on a USB drive (or similar storage methods), or give you a unique code to attach to your online application.
If you don't feel comfortable using the online service, you can always have recourse to the Passport Express option, by which you may send your application form via An Post. These forms can't be downloaded from the web, meaning you'll have to get one at a Garda station or Post Office.
Lastly, you can apply personally by going to the Passport Office directly. This option is useful when you require a quick renewal for emergencies.
Dual Citizenship
You are not obliged to relinquish the passport issued by your country of origin to acquire and use your Irish passport, as Irish law allows you to hold two nationalities.
However, you ought to check the laws of your other country before soliciting your Irish citizenship certificate. Some countries compel their citizens to renounce the other nationalities they may have before being considered a citizen there.
Freedom to Enter or Leave Ireland
Lastly, as an Irish passport holder, you can enter and leave Ireland as often as you wish, and there are no limits to the amount of time you can spend abroad. You could even ask for an Irish passport renewal from any country with an operative Irish consulate or embassy.
With a permanent residence, you're still at risk of being denied "leave to land" owing to the ample powers given to immigration officers. While you could legally challenge this action, you are far less exposed to suffering these uncomfortable setbacks with an Irish passport in hand.
Likewise, to give one example, if you are on a Stamp 5 permit (Without Condition As To Time or WCATT) and you remain abroad for more than four months, the authorities will assume that you broke the conditions of your permit and revoke it. You are exempt from these limitations as an Irish citizen and passport bearer.
Please share best tips about traveling with an Irish passport in the comments below, on Twitter, Facebook  or Instagram.