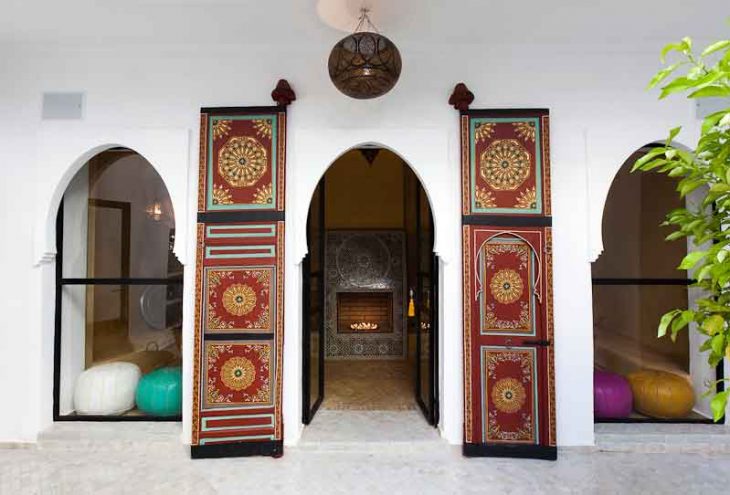 A Love Affair with Marrakech!
Probably you thought I knew it all? I am very honored that you think so, but I am sorry to tell you that I do not know everything. Marrakech is one destination I haven't been to but always wanted to visit. Marrakech, a city back on track and slowly transformed from a dusty hippy outpost to one of North Africa's most magical and exiting destinations.
To fix the knowledge gap about Marrakech, I called Joanna Swica and asked her a few questions about the city. Joanna travels between Stockholm and Marrakech several times a year and have a great knowledge of the city. Joanna works as a manager for Origin Hotels, which is a group of swedish owned riads in the heart of Marrakech. I decided to ask her about why she think you should go to Marrakech and if she could reveal her best insider tips to experience the city in its full glory. I hope you will enjoy the read below!
You spend a lot of time in Marrakech, why do you think the interest is growing for the city and what is your personal opinion about the country?
"Well, in my personal opinion it is a really easy and exciting life in Marrakech, I find myself really relaxed by the mixture of the luxurios lifestyle with the Moroccan culture in the Medina and the historical atmosphere which makes the surroundings magical. The fact that Norwegian now operates 3 weekly nonstop flights during winter makes the city very easily accessible and time-efficient to visit. The idea of leaving a dark and cold Stockholm, for example in November and arrive in Marrakech 5 hours later where the sun heats your pale skin, let your senses explode by the scents and colours, and the evenings are enjoyed with good food and drinks at one of the many rooftop bars with international guests which adds the impression of a carefree existence with a touch a le dolce vita. That..that feeling is addictive."
Where should I stay when visiting Marrakech?
Riads offcourse! I'm not saying this because I work with riads and am a one-sided hippie who refuse any accommodation other than my "own". No. I am saying this based on my opinion as a person who has traveled extensively and experienced different types of accommodations that riads are one of the best reasons to stay in Marrakech and discover the culture, the country and the "real" life of Marrakech. With comfortable and luxurious rooms with a view, lush courtyards with fountains and orange trees, rooftops where you can enjoy the sun and exquisite decorations it's a obvious choice. Origin Hotels offers all that with a touch of style and personal charm.
But yes, off course I realize that not every one wants to stay in a riad and that's perfectly OK. There are many high quality hotels in Marrakech that I can recommend. One of the world's best hotel is located in Marrakech and also on my top list of dream stays. Can you afford a stay at the La Mamounia the choice is easy, you are staying there. I can also recommend Les Jardins de la Koutoubi, it's a really nice hotel just next to Djemaa El Fna. There is also a nice luxurious hotel just next beside one if my favourite nightclubs "So Lounge", The Pearl has a great rooftop pool and bar, perfect for lazy days in the sun and pre-drinks in the sun before hitting the nightlife in Marrakech.




Please, describe how your perfect day look could look like in Marrakech…
A really good day in Marrakech for me starts with a early run around the walls that separates the old town from the new part of the city. After a nice breakfast on the riads roof top I take a taxi to "Beldi Country Club" witch is located 10-15 minutes outside the centre of Marrkakech. The hotel is a chaming blend of Moroccan tradition and French chic. Beldi has been designed to resemble a Moroccan village with is narrow alleyways, shady courts and riads. Here you can find a big black pool with gardens and oilve trees. This is a perfect "hideaway" for me when I just want to get out from the intense tempo in the city. After couple of hours its enough of silence for me and I often go to Terrasse des Epices in the souks to meet up some friends for a snack.
The evening begins late in Marrakech and after a long day in the sun, I usually appreciate a siesta for an hour or two. Usually around nine oclock, I meet up some friends for a coffee at Extrablatt before we head to The Studio for dinner. I save the dessert to Lotus Club, where we see the show and let the evening begin. I always finish my evening at So Lounge, sometimes I take a quick stop at Le Comptoir becuse the drinks there are top-notch or give Jad Mahal a quick visit, just because of their live band. Its noisy, crowded and really fun! Nightclubs are open five, one of the best is Theatro, its just around the corner from So Lounge, in the same building.
Last but not least, can you tell me about some of your favorite places inside the Medina?
I really love the souks, although it can sometimes become a little too crowded in high season. But it's a really amazing place where you can walk around in hours and shop for really nice things. There is a restaurant that I visit several times a week just for the juices and quality of the food. "Earth Cafe" has the best salads in Marrakech and their dishes are full of fresh vegetables, fruits and cheese varieties. Its located just 5 minutes walk from Jemaa El Fna and open for breakfast, lunch and dinner. There is another restaurant named "Les Jardins" that i really like, its a bit more high-end than"Earth cafe" where the prices are around 5-7 euros for a dish. "Les Jardins" serves alcohol and have a more extended menu with lot of hot dishes. They also have a nice shop, a bit luxury-hippie style.
The first thing I recommend my guests when they arrive to our Riad is "go to the market around nine, take a seat by a foodstand and just point on what you want to try, then eat and be amazed by the atmosphere and magic of Jemaa El Fna".
But, as in all love stories, there are moments that do not always get your heart racing as it usually does. If you can make peace with the fact that some things about the city going to annoy the crap out of you, such as the horse carriages, the monkeys on the square or the taxi drivers that always wants to trick you in to paying way too much – you will absolutely love Marrakech.
Here are few resources when planning a trip to Marrakech:
Having read this I want to go to Marrakech even more! A BIG thanks to Joanna for being helpful and sharing her secrets!
I hope you you enjoyed Joanna´s tips for a perfect day in Marrakech. Please share your own tips on Twitter, on Facebook , on Google+ or in the comments below.
---