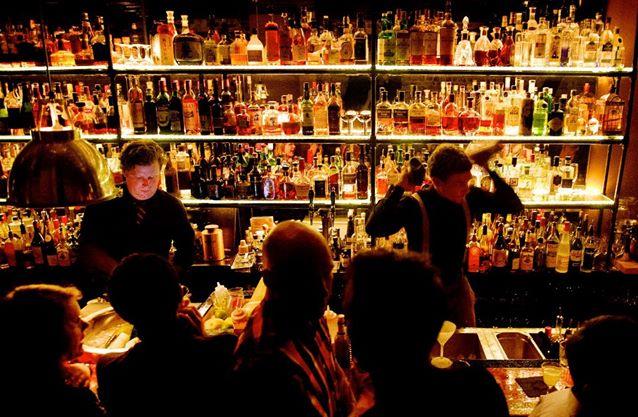 Best Cocktail Bars in Copenhagen.
The capital of Denmark, Copenhagen, is one of the most exciting cities in Europe when it comes to food and drink if you ask me. The city boasts restaurants like Noma that has been voted best restaurant in the world. The city offers everything from inexpensive cafés and bodegas to world class cocktail bars. Here are my best cocktail bars in Copenhagen:
Strøm Bar
This used to be a local, worn down, neighbourhood bar but is now transformed to a sophisticated cocktail bar. Its lavish décor is inspired by the art deco movement of the 20s and 30s, but still feels chic, modern and contemporary.
The service is casually professional and skilled in mixology. The cocktail menu changes every 3 months but naturally, you can still get your favourite. The bar even has a smoking room with nice cigars, both Cuban and non-Cuban, displayed in humidors. Co-owner Andreas Nilsson admits, 'even in a city as healthy as Copenhagen, everyone likes a smoke when they drink'.
A sophisticated place only plays sophisticated music, which is the case at Strøm Bar.
Ruby
Just off the pedestrian street Strøget you will find Ruby cocktail bar. It is fairly anonymous from the outside because the bar is not directly in street level, but the cozier and more personal when you have entered. It is more like entering in your good friend´s luxurious apartment than dropping into a bar.
The upper level (where you enter) is in light, soothing colours mixed with heavy armchairs in leather. When you go, not if, you have to check out the basement which is equally soothing but set in darker tones. There is also a small outdoor area if you need a whiff of fresh air or have not quit smoking yet.
The cocktail menu is small, innovative but still comprehensible. I do enjoy the house Martini with a twist of grapefruit and a sparkling feel on my tongue. Not on the menu but ask the friendly people behind the bar.
Salon 39
Is located in Fredriksberg which is a part of Copenhagen city centre and considered as a fairly hip and posh area of town.
This favourite serves both cocktails and an international menu with strong influences from Italy. Both food and drinks are well prepared and well worth the buck (or Danish Krona as we are in Denmark). From the sound system you will enjoy jazz, soul and blues on a speaking friendly volume.
Some claim that this is the off duty bartenders favourite bar, but I have no proof of that.
The Union
One of the most anonymous and stylish bars in Copenhagen. You will have to find it on your own with just these directions "Store Strandstræde, Copenhagen K, black door with gold doorbell". Whatever you do, please do not confuse it with The Union Kitchen.
Once you are in you will enjoy something similar to a speak-easy but with a modern touch, killer cocktails, a friendly party atmosphere, sometimes loud music and dancing on the bar. Inside there is another bar, The Bureau, which is the inner sanctum.
The Jane
Located on Gråbrødre Torv in the city centre and not far from Strøm Bar. This is more of a night club than a cocktail bar but it all depends on what time you visit. You will sip your cocktail in plush chairs and Chesterfields surrounded by bookshelves. During the evening some of these bookshelves will open to reveal another room furnished in a more modern style.
The DJ will start spinning around midnight and you will be able to keep dancing until 4AM or 5AM depending on what day you decide to visit.
Dress Code in these Copenhagen Bars.
Copenhagen is casual but stylish which means there is no official dress code for the bars mentioned above. You do not have to dress up in formal attire, but please leave sneakers, clogs, tank tops, casual gear and anything that will make you look like a logger, trucker or redneck at the hotel. If you feel stylish and good about yourself you will most certainly not have a problem.
Ruby mentions dress code on their homepage and they nailed it in a humorous way: "Being well dressed is as important as being able to hold your booze. You can't compete when your shoes are beat, as shoe shine Joe said once in Miami. We're not going to toss you out for not wearing a tie, but a few essential rules do apply. Scarves and hats are for outside, sportswear is for people doing sports and clogs are for Dutch people doing traditional dancing, which is highly frowned upon anywhere but in the Netherlands."
Copenhagen has so many more places for good libations. I would love to hear your best cocktail bars in Copenhagen, either on Twitter, on Facebook or in the comments below. Enjoy your time Denmark!