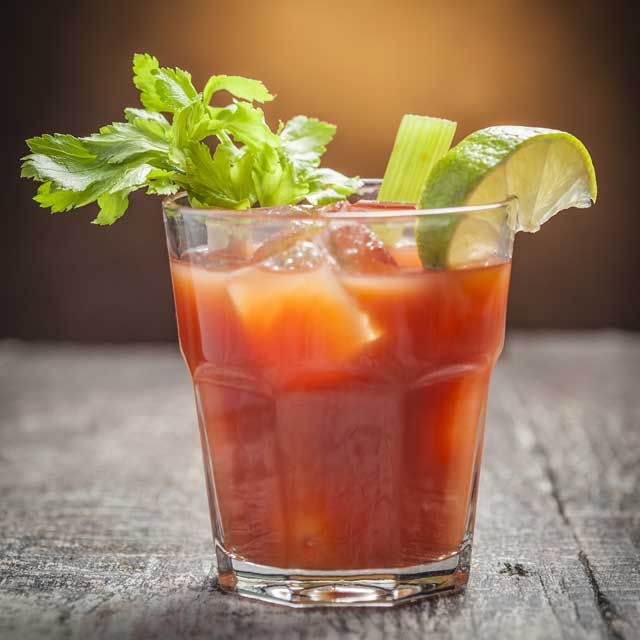 October is Bloody Mary month at St. Regis Hotels.
The Bloody Mary is a favourite drink for many and Fernand Petiot, bartender at the King Cole Bar at St. Regis New York, claims to be the inventor of the Bloody Mary. There are also sources who claims that the drink was invented at 21 Club in New York, at the Ritz in Paris or at the 21 Club in New York. I guess we will never know for sure, but we do know that this is a perfect occasion for St. Regis Hotels to celebrate the 80th anniversary of the world famous pick-me-up!
As a general rule, the Bloody Mary consists of vodka, tomato juice, lemon or lime juice, a little horseradish, a dash of Worchester sauce, salt, pepper and Tabasco sauce. Shake, serve on ice, put a stalk of celery in the glass and you are ready to go. This recipe is the base and there are many local versions, to each bartender´s and customer´s taste. Personally, I think this is part of the charm. St. Regis hotels all over the world has crafted their own local version of the drink and you will find a couple of mouth-watering examples below.
Chilli Padi Mary at The St. Regis Hotel Singapore.
Singapores cuisine is spicy with influences from all over South East Asia, which is reflected in this version:
Ingredients
1 oz / 30 ml premium vodka
1 piece lemongrass, about 1 in / 2 cm thick
1 slice fresh gingerroot (mature/old)
1/2 thinly sliced chilli padi, seeds removed
1/8 tsp / .5 ml sugar syrup
3 oz / 90 ml tomato juice
Directions
Muddle the vodka, lemongrass, ginger, chilli padi and sugar syrup together. Strain and pour into a rocks glass filled with ice. Add tomato juice, stir and serve.
Siam Mary at The St. Regis Bangkok.
This one seems even spicier and more complex than the Singaporean relative, which is also is true for the Thai cuisine.
Ingredients
1 lemon wedge
1/2 stem of coriander
1/2 chopped Thai chili
5 oz / 150 ml tomato juice
1/4 tsp / .5 g wasabi paste
2 dashes Worcestershire sauce
1 dash lemon juice
1 pinch salt
Freshly ground black pepper
2 oz / 60 ml premium vodka
2 cherry tomatoes
1 Thai basil stem, for garnish
1 lemongrass stalk, for garnish
1 lime wedge, for garnish
Directions
Muddle the lemon, coriander and chili. Combine with the tomato juice, wasabi paste, Worcestershire sauce, lemon juice, salt and pepper in a shaker. Add ice and vodka. Shake and strain into a large, silver mug filled with ice and the tomatoes. Garnish with the Thai basil stem, lemongrass stalk and lime wedge.
Shogun Mary at The St. Regis Osaka
This concoction is a mixture of Japanese produce, combining spicy and sweet.
Ingredients
1 slice lemon or yuzu
1/4 tsp / 100 ml 100% yuzu or lime juice
Wasabi powder
1 pinch salt
1 oz / 30 ml vodka
1/2 oz / 15 ml premium dry gin
1/4 tsp / 1 ml soy sauce
3 oz / 80 ml tomato juice
Directions
Rim a 6 oz / 180 ml martini glass with the juice of a slice of yuzu or lime. Dip top of the glass into a mixture of salt and wasabi powder. Combine the vodka, gin, soy sauce, yuzu (or lime) and tomato juice with cubed ice. Shake and pour into the prepared glass.
Mary Terranean at The St. Regis Rome
In this version, the spices that epitomizes the Italian kitchen are represented.
Ingredients
1 oz / 30 ml premium vodka
4 oz / 120 ml Bloody Mary mix
1 pinch red hot pepper powder
2 basil leaves
1/2 tsp / 2.5 g oregano
1 splash extra virgin olive oil
1 celery stalk, for garnish
Directions
Combine all of the ingredients, except the celery stalk, in a shaker and shake well. Pour into an 8 oz / 0.2 l white wineglass filled with ice. Garnish with the celery stalk.
To explore all St. Regis´s local versions of the Bloody Mary, please go to: http://www.stregis.com/bloodymary. If you want a general background of the drink, please visit Wikipedia.. Personally, I would like to try them all but unfortunately have not got the time.
I hope you liked this article about the Bloody Mary recipe (or Red Snapper as it also was called once). Please share your favourite recipes, favourite bars, thoughts on Twitter, on Facebook or in the comments below. I am looking forward to hear from you!