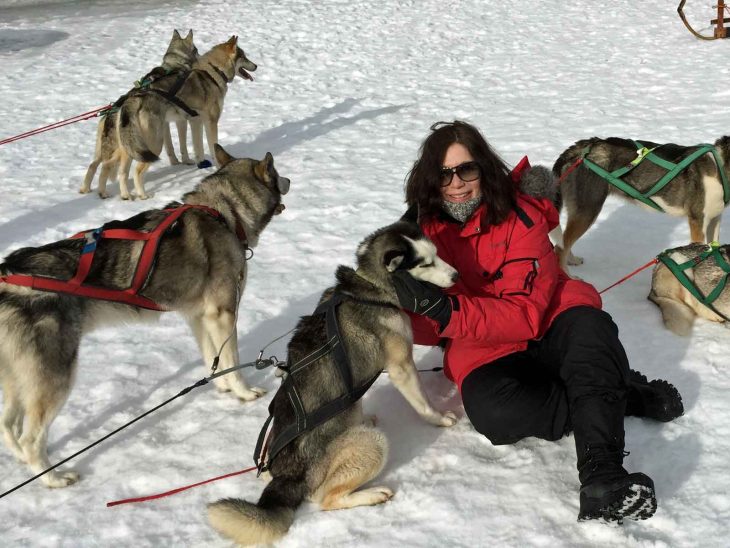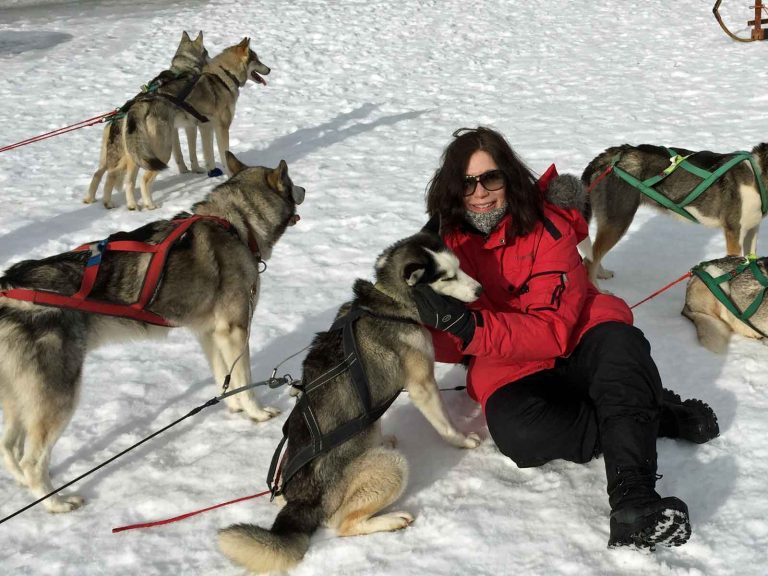 Window to the Wild – Dog Sledding in Lappland, Sweden.
I have my full bodyweight on the sleds brakes in order not to accelerate as a rocket while releasing the snow-anchor. The slight noise of the releasing snow anchor is the start signal for the dogs and I don't even have time to shout HIKE before the dogs are off the blocks.
During 2 days and 80 kilometres (about 50 miles) I will be pulled through a beautiful, wintery landscape by gorgeous Siberian Huskies. There is almost no wind, the temperature is about -2C and the sun is creating stunning reflections in the snow. The settings are as close you will ever get to a Disney cartoon. In other words, the conditions are perfect!
To ride a dog sled is an ancient mode of transportation in snow covered terrain and gives the passengers an opportunity to experience the wilderness and scenery in a nice tempo, even if the speed can be breath-taking downhill. My inner state of mind is almost meditative mixed with a great sense of freedom. If you are lucky you might see reindeer, fox and moose during the ride. (Speaking of moose, if you ever meet Donald who is a tour guide from Aurora Borealis you have to ask for his moose story.)
After travelling fast a few kilometres the dogs find a steady pace. The pack leader is chosen for intelligence, ability to understand and obey orders and also for being able to keep a steady and good pace. The dogs behind the leader are good at following.  The cooperation between the musher (the driver of the dog sled) is important, otherwise the dogs will just look up at you without moving forward.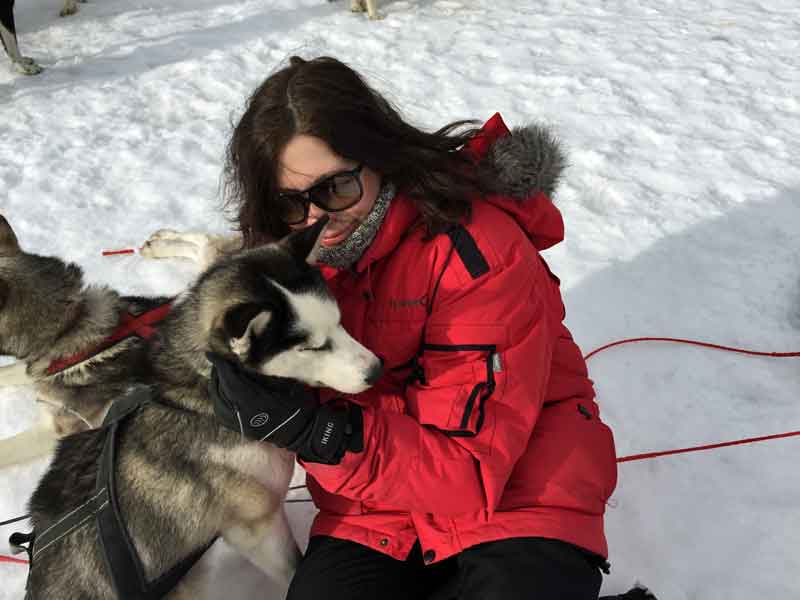 Driving a dog sled is about planning, just as you plan your driving in traffic. Do not stay to close to the carriage in front of you to avoid crashed. Sometimes you as a driver will have to help kicking the carriage forward and even get off and run beside when going uphill. It is equally important to be steady on the breaks when going downhill so the sled does not pick up too much speed and crashes into the running dogs. If you are mushing your sled in the woods you will have to plan any turns or curves ahead so you do not crash into the trees while if you are driving on frozen lakes or rivers you have greater freedom to manoeuver and catch some rays.
When we are approaching lunchtime I am shouting WHOA to the dogs and the sled comes to a stop. The guides have prepared lunch and I am expecting a hotdog or something similar. I realise that tour guide Donald Eriksson is also an excellent chef who prepares souvas-burgers (which is a type of smoked reindeer) served with salad, Västerbotten-cheese and homemade dressing. Free range, cortisol free meat is tasty and well worth the trip alone! Lunch is finished with tea, coffee or hot chocolate. No dispensable plates or cutlery is used to preserve the nature. Everything is taken back to the main camp and nature is unspoilt and looks just as when we arrived. The remainder of the afternoon is spent in nature probably even more beautiful than this morning.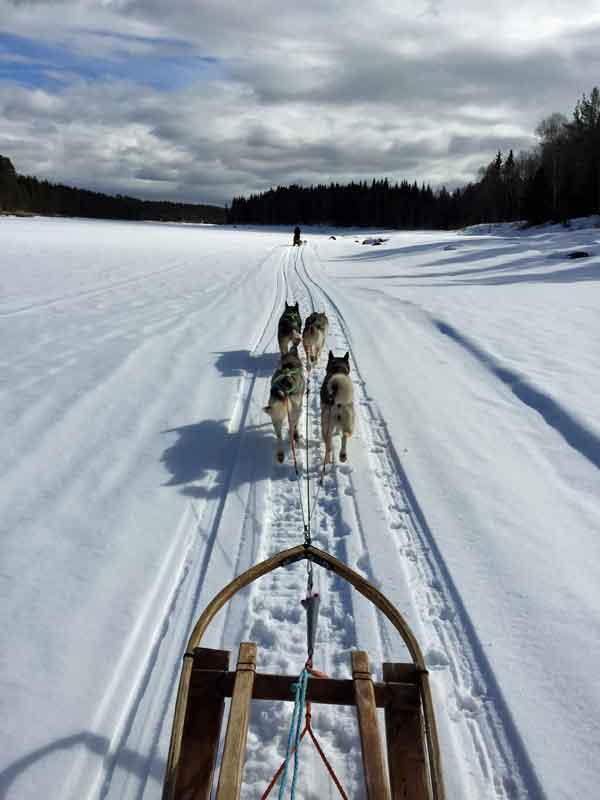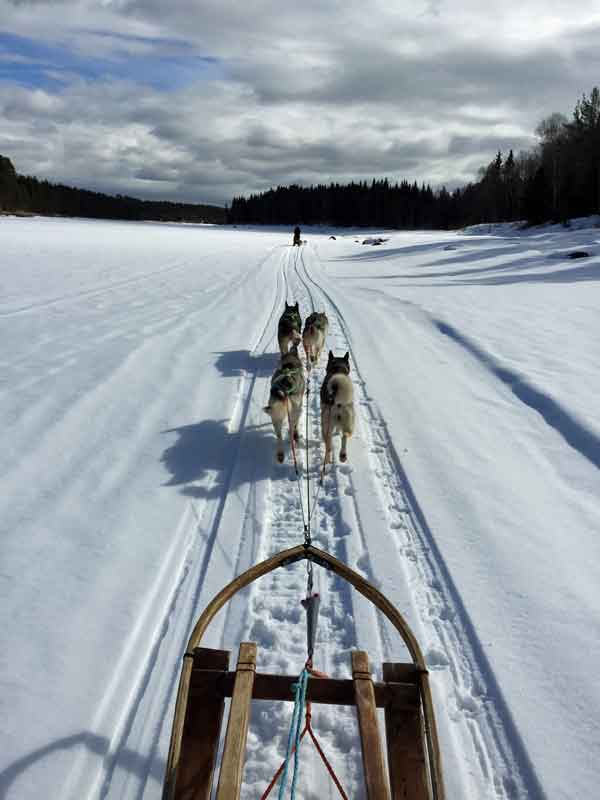 Mr Sandman is coming early after a day out in the wilderness and we all are tired but happy. Dinner is served and the evening is spent with nice conversation, contemplation on a great day and exciting stories by Donald.  I fall asleep early with a smile on my face.
Conclusion.
It was a great experience and if you are thinking of trying dog sledding in Lappland, I say: do it! There are several operators and I chose Aurora Borealis Adventures because it is a family company cherishing the genuine and all trips are made in synch with nature. Their dogs are just not tools, they are family members. The combination of green thinking, warm atmosphere and good food is making the experience top notch! This experience is 5/5 and Aurora Borealis (northern lights) Adventures are highly recommended.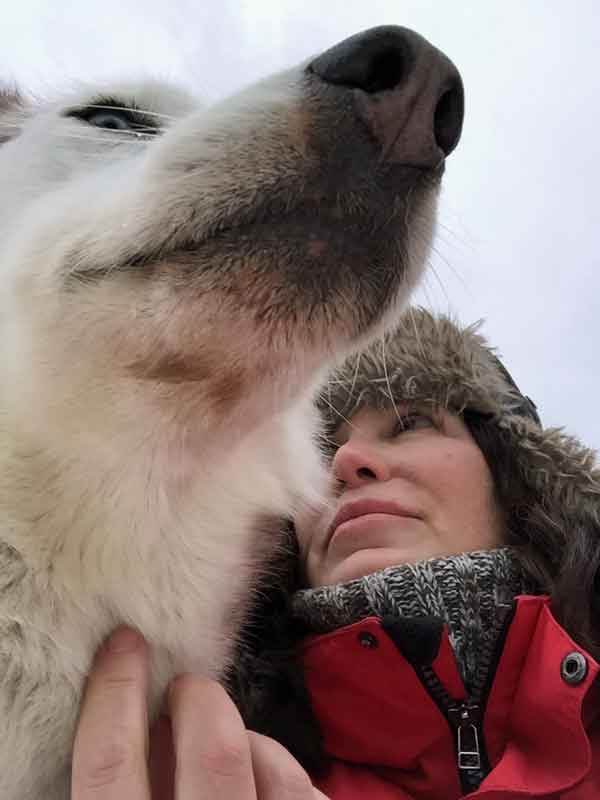 Vocabulary For Communicating with Sled Dogs.
Hike = go, start, run.
Whoa (like Santa Claus or Al Pacino in the movie "Scent of a Woman") = stop, halt.
Gee = turn right.
Haw = turn left.
Practical Information For Dog Sledding.
Aurora Borealis Adventures  is located in Vindeln, Västerbotten, in the northern part of Sweden bordering Swedish Lappland. They are specialized in adventures and events in the north part of Sweden and certified with "Natures Best" which is a quality assurance for eco-tourism. They offer dog sledding, kennel visit, fishing, stand up paddling and rafting. They also arrange conferences, teambuilding and tailored events. There are other operators but as always, choose carefully to get the right experience.
If you need to arrive the day before, you are welcome to stay in Aurora Borealis Adventure´s guest house which is convenient. Budget just short of 500SEK for a night in the guest house.
Cost For Dog Sledding in Sweden.
You can go dog sledding for anything between 1,5 hours up to 12 days which means prices vary accordingly. I chose to dog sled for 2 days and it cost me 4600SEK including breakfast, lunch, dinner and transfer to and from Lycksele.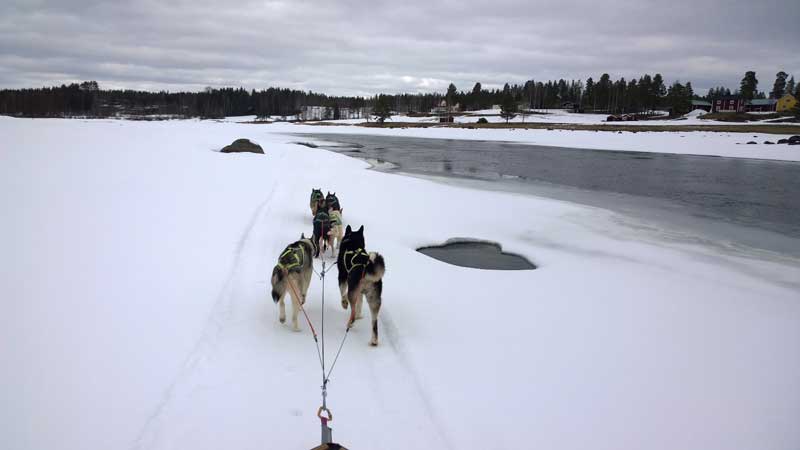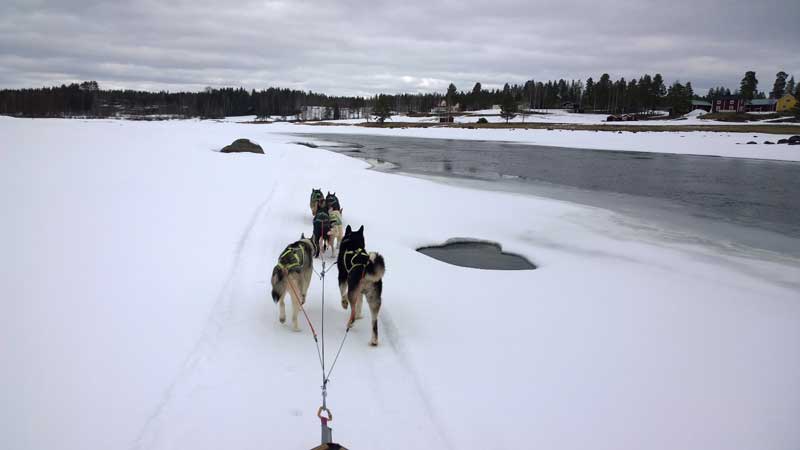 How to Get to Vindeln.
Cheapest option is usually to fly to Umeå with Malmö Aviation or SAS and then continue by bus or train to Lycksele where Aurora Borealis will pick you up. The bus takes roughly 2 hours and costs 173SEK one way. You will find information about bus on: www.tabussen.nu. The transfer between Lycksele and Vindeln will take about 1 hour.
Nextjet flies directly between Stockholm and Lycksele which is more convenient but sometimes more expensive.
Equipment Needed for Dog Sledding.
Aurora Borealis will provide overall, beanie, gloves and warm boots. You will need to bring warm underwear (including socks), a couple of sweaters a scarf and ski goggles which are good to have in case of snow or wind.
And a last piece of advice: plan your intake of fluids during the day. It is sometimes hard getting in and out of the overalls.
Credits
This story was written by Karin Tydén who is a hypnotist and life coach. Check out Karin´s presentation and other stories if you want to learn more about her. A big thanks to Karin for sharing your experiences!
Do you have additional information on dog sledding in Sweden? Please share via email, in the comments below, on Twitter, Facebook or Google+.