Everything You Need to Know Before Traveling to Columbia, South Carolina
South Carolina is currently home to 5.15 million people, with 133,451 of them residing in Columbia. Despite its small population, Columbia is considered to be South Carolina's largest city. Being the state capital, it is also home to excellent universities and reputable companies like BlueCross BlueShield, KEMET Electronics, Intertech Group, and so on.
There are plenty of things to do in Columbia South Carolina, whether you are a visiting guest or a local. Those who love the outdoors will enjoy the parks within and around the city. For those who want to visit the town for some gastronomic experience, you can also enjoy the food trucks, fine dining restaurants, and local restaurants in downtown Columbia. If you love the arts, you can enjoy the national museum also found in downtown Columbia.




Columbia: Historical City
Columbia is South Carolina's second planned city. It was initially intended to encompass a two-mile square, with 400 blocks. But now, the city has homes and historic buildings line its expansive streets. Some of the popular draws include sports, entertainment, and the arts.
Guests who travel to Columbia find the city's pre-Civil war urban planning and architecture quite interesting. Its stately buildings and homes would remind you of the early 1800s. The mansions in the city include the homes of the 28th President of the United States, Woodrow Wilson. The nation's very first federal architect, the wealthy Columbian Ainsley Hall, who designed the Robert Mills mansion, which has been used as a local educational institution for over 100 years.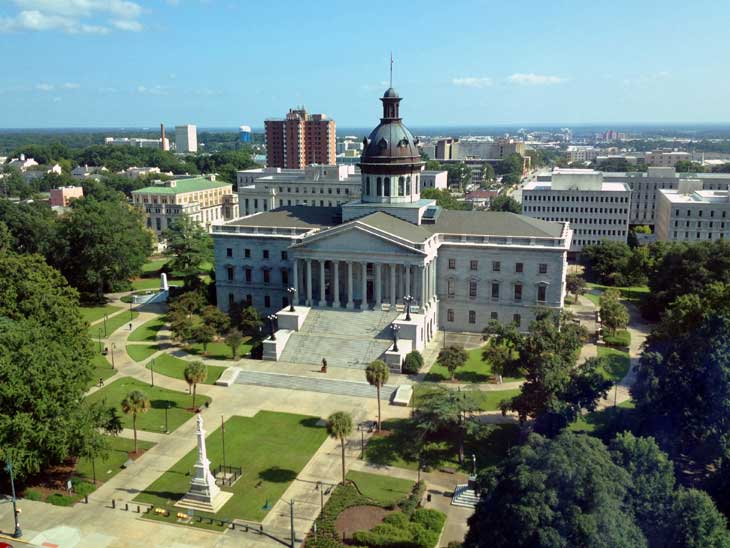 Now, it is the Historic Columbia Foundation that maintains and protects these historic homes and offers tours to these houses.
Columbia's Performing Arts
If you are looking for things to do in Columbia South Carolina, you might want to pay a visit to the city's thriving art scene. You can choose from orchestras, dance, live music, or theater, all of which take place in the Township Auditorium. The said auditorium hosts dance performances, ballets, and fashion shows in its proscenium theater, too.
At the University of South Carolina's campus, you can also see the Colonial Center, where many famous artists have held concerts in the past. This arena can accommodate more than 19,000 people. On the other hand, dance companies and orchestras also regularly perform at the Ira and Nancy Kroger Center of the USC.
Film and Visual Art
You can also find some fascinating historical museums and traditional facilities in Columbia. The Columbian Museum of Art showcases Baroque and Renaissance art and 20th-century photography. Aside from that, the same museum also hosts family-oriented events and shows all through the year. These shows and events include performances, films, and classes.
Most city visitors take an interest in Columbia's Confederate history, which can be experienced first-hand at the state's Confederate Military Museum and Relic Room. You can also come and visit the Nickelodeon theater, the sole nonprofit theater in South Carolina. Here, you can watch indie films of DIY and first-time filmmakers.
The list of things you can do and places you can visit in Columbia is very long. There is always a perfect activity or place for every visitor. Whether you like to go on an adventure, take a quiet walk around town, or visit the theaters and museums, you will always have a place to go to in Columbia.
What is your best tip for Columbia, South Carolina? Please share in the comments below, on Twitter, Facebook  or Instagram.