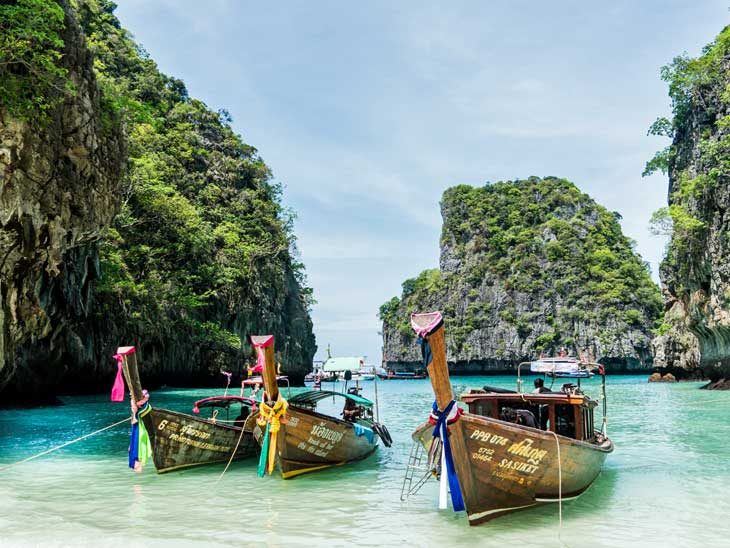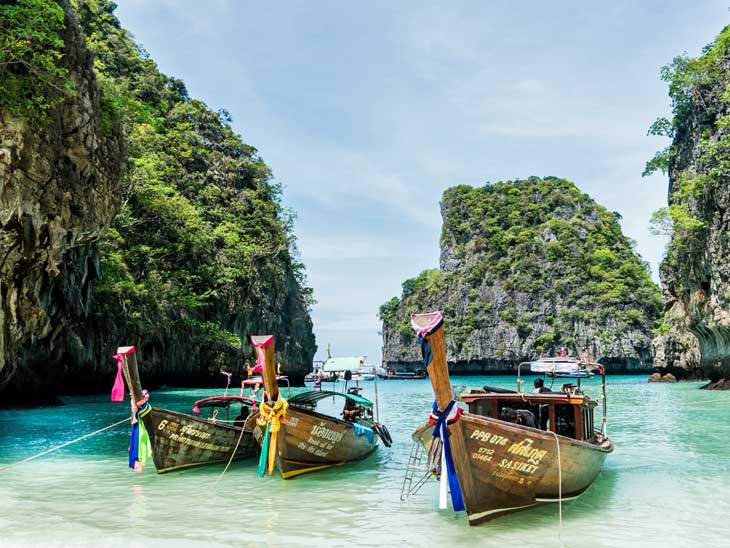 Ko Phi Phi is one of the most visited islands of Thailand, and one finds boatloads of tourists stepping on the small island every single day. The magical island boasts of a party-like atmosphere, and what makes it attractive is its remote location with lush mountains and azure water. A visit to Ko Phi Phi is a must for every traveler on holiday in Thailand. The beautiful beaches, fantastic diving spots, and an electric nightlife work like a magnet for the tourists.
When to go
If you don't like crowded beaches, you can void the peak season between November and April. However, it is the best time to travel to the island because of the pleasant and cooler temperatures. Avoid the summer season between March to mid-May when the temperatures and the humidity levels soar. The monsoon season lasts from May to October, and this is one of the cheapest seasons to plan a trip for those looking for a peaceful and budgeted holiday.




How to reach Ko Phi Phi
There are regular ferries from Phuket, Krabi and Koh Phangan to Koh Phi Phi. Tickets can be bought online for the speedboat or long-tail boats. Speedboat & ferry travel is the best options to get to Koh Phangan. As the seas can be rough, it can be a nauseating experience for some. I do like traveling with Thai Airways.
Where to stay
There is a wide range of different accommodations available for all types of travelers. One can stay at high-end luxurious resorts or backpack with friends in thatch dorm rooms. Koh Phi Phi hotels can be expensive, but one can negotiate for a better price.
What to do in Ko Phi Phi
Koh Phi Phi has plenty of excitement to offer for the tourists, and one can dive, snorkel, rock climb, and kayak. Other popular activities include bird watching and sailing.  You can organize a scheduled boat tour to explore the bays and beaches. Take your first lesson of diving under experts and explore the wonderful marine life. Hike to the well-known Phi Phi Viewpoint and enjoy panoramic views of the island. Kayak through and strikingly blue ocean or join a Thai cooking class. And when there is nothing else to do, you can simply relax on those glorious beaches and enjoy the views. The main island is surrounded by beautiful, and the lush tropical jungles teem with impressive flora and fauna. Tourists love to trek those forests and spot the wildlife and birds. When you get tired after a long day, you can pamper and revitalize in some of the amazing spas. Nighttime is party time, and you can enjoy the all-night fire shows and its lots of fun.
Tourism Thailand is packed with information on Thailand and Koh Phi Phi.
Where to eat
When it comes to food, Koh Phi Phi caters to every kind of foodie. There are fine dining options as well as local eateries to enjoy the specialties.  Enjoy the delicious fresh seafood that is served at every corner. Reggae Bar is well famous for its barbecue dishes, and one can indulge in local beers and cocktails at the local beach bars. The food is delicious in Koh Phi Phi, and the beers are super cheap. Enjoy freshly baked bread and home-brewed coffee in Phi Phi Bakery.
Where to shop
Shopping opportunities have grown on the island, and some of the most popular haunts among shoppers include names like 7-Eleven, Kunstone, Namlily, Pakaran, and some more. 7-Eleven is a popular convenience store while Kunstone has established itself for a comprehensive collection of silver items and accessories. Namlily is a charming shop where you can buy customized vintage dresses and other accessories.
Please share your best tips for Koh Phi Phi in the comments below, on Twitter, Facebook  or Instagram.
Click here if you want to check out our Thailand archives.