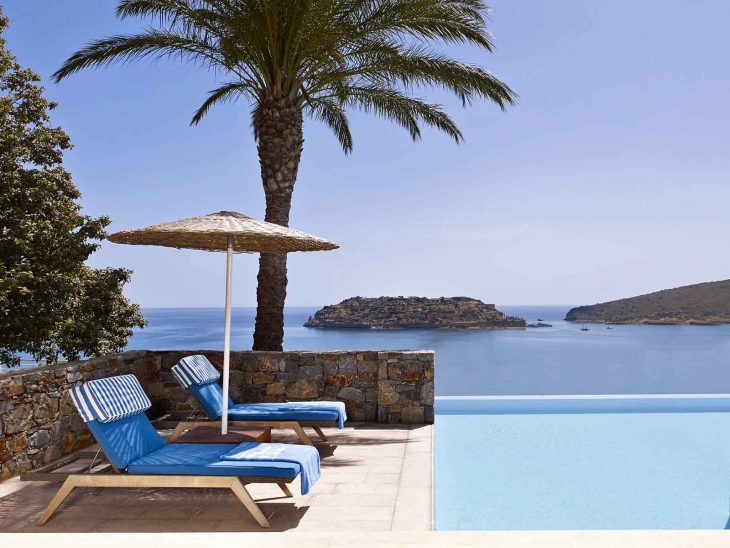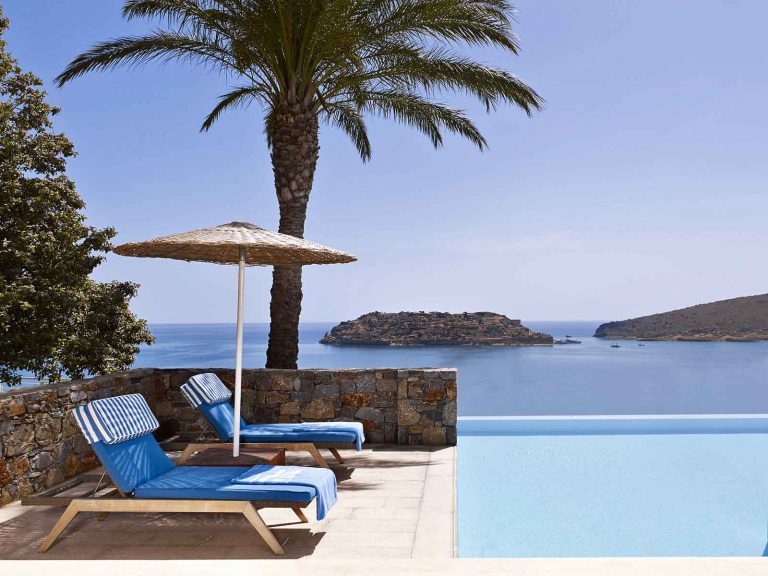 Review of Blue Palace Resort & Spa in Elounda, Crete.
Crete is one of those islands where package tours were predominant for a very long time. If you were a cool and independent traveller, you would not consider Crete for your next vacation. But I think you should, because there are places out of the mass tourism spotlight. One of them are Blue Palace Resort & Spa in Elounda on Crete. Read all about it in this review.
Location
In the north eastern part of Crete with a 5 min walk to Plaka which is a small, sleepy village with a few restaurants, cafés and shops. This is where you take the boat to Spinalonga which once was used as a leper colony and well worth an excursion.
If you ride a car for about 10 minutes you will reach the fishing village Elounda that offers the visitors a market, pharmacies, supermarkets, souvenir shops and of course lots of cafés and restaurants.
Agios Nikolaos is the closest town with its approximately 27000 inhabitants and is reached in 15 to 20 minutes by car from Blue Palace.
Getting to Blue Palace Resort & Spa
The easiest way to get here is to fly to Heraklion and then travel by car the remaining 80km to the hotel. The car ride will take 45 minutes to 1 hour depending on traffic. The choice is yours if you prefer a chauffeured transfer or to pick up a rental car at the airport.
The road is in a good condition and scenic as well, so just kick back and enjoy the ride/drive.
The hotel has helipad in case this is your preferred choice of transportation.
Rooms
There are 12 categories to choose from and all rooms are well kept and decorated in light, modern colours with a playful touch. Instead of iterating all room types, I am just going to mention my favourites:
Mediterranean Maisonette Suites Sea View Private Pool
This room is my ultimate favourite for families! I have several customers coming back, year after year, just because they like this room so much. When listening to my customers I understand that they like the space (rooms are about 70 m2) on 2 different levels, the private pool and the home cinema with CD/DVD player. Like staying in an apartment with all the amenities and services of a 5-star hotel.
Deluxe Suites Sea View Private Pool
Do you want to splurge a little, but do not want to go all in by booking one of the private villas? Then this is the room type you should look into, if you ask me. Spacious suites with bedroom and separate living area. All suites boasts a fairly large pool (about 33 m2), spacious veranda with sun beds and umbrella.
Activities
This is where Blue Palace Resort & Spa really shines if you ask me! You have almost everything you can think of on the premises and lots of interesting day excursions off the beaten track available.
Beach
The private beach at Blue Palace Resort & Spa is typically Greek with pebbles. The hotel has solved it elegantly by installing wooden decks and walkways so you do not have to walk on stones. The walkways stretch all the way into the water.
The private beach is reached by either one of two walkways (which are quite steep) or by the funicular. Well at the beach you will be taken care of the staff and will be able to purchase drinks and food at the Isola Beach Bar.
Pools
Except for the private pools for the rooms there are 3 main outdoor pools on the premises. Add another indoor pool in the Elounda Spa and you are all set for a wet, wild and relaxing experience.
Tennis
You have two flood lit tennis courts to play. These offer nice views and well worth a visit if you are into the game.
Tour the suppliers of Flame Restaurant
If you are a curious foodie, ask the Flame restaurant for a tour of their suppliers. This way you will be able to visit the gardens where some ingredients are grown, cattle farms, olive groves, vineyards and dairies.
Water Sports.
Diving
Greece offers some of the clearest waters in Europe and if you are a diver it is an opportunity not to be missed. The PADI-centre at Blue Palace arranges everything from dive to snorkelling trips and is open 09:00 – 19:00 in high season. More information about the Blue Palace Dive Centre.
Water Activities
The Water Sports Centre can not only offer diving, they will help you with water skiing, knee boarding, wake boarding, a private cruise on a motor yacht or on a caique (which is a traditional Greek wooden fishing boat). They will also be able to help you with a private speedboat taxi to Spinalonga, in case you do not want to take the regular boat from Plaka.
Day Trips & Excursions.
Crete has lots to offer the visitor and you will be able to keep active and explore for a very long time. With Blue Palace Resort & Spa as base you can visit sites as Spinalonga Island, The Palace of Knossos, Archanes, the Byzantine church Panagia Kera, the sunken city Olous, Chrissi Island, Boutari Winery and the city of Agios Nikolaos.
Helicopter Sightseeing
As mentioned earlier, the hotel has its own helipad and will be happy to help you arrange a helicopter sightseeing.
Spa
I could write a whole article about the spa, but I will just conclude that you can get almost any treatment. Even non-residents can visit the spa at a surcharge, in case you are passing by. The spa is open 09:00 – 21:00 and treatments are available 12:00 – 20:00. Appointments are recommended but not necessary. The fitness centre is open 24 hours.
Activities for Children
Children are well taken care of at Blue Palace with activities like Kids Club (for children 3 – 12 years of age), water sports, swimming lessons, Cretan Dance lessons, biking, spa for kids (age 16 and older) and kids yoga (age 16 and older). The Activities Team at Blue Palace can be very creative and helpful, so my recommendation is to approach them and ask what they can do for you.
Restaurants & Bars
I can reassure you that you will not be hungry or thirsty during your stay in Crete. You can choose from 5 restaurants or opt for private dining in your room or al fresco on your terrace.
Flame
This is the steak house at Blue Palace Resort & Spa and a restaurant I like and recommend very much. See "Activities" if you want to visit their suppliers.
Blue Door
This is a typical Greek tavern which is also implied by the name. Located on the beach and great for a casual lunch or dinner. Monday and Friday night you will be able to enjoy traditional Cretan music live in the tavern. Great food and great atmosphere!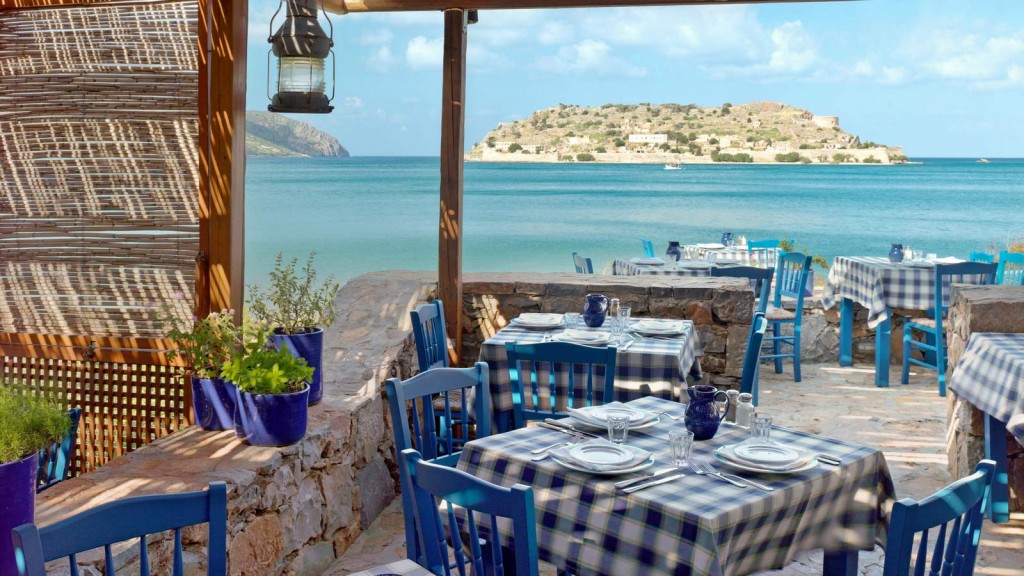 Asia Blue
Asian fusion/cross-over with a modern touch, prepared in an open kitchen. Elegant but still relaxed and you do not need formal evening wear to visit this restaurant.
Isola
The Italian job on Crete. This restaurant serves mainly Italian food but also from other parts of the world.
Olea
Is the main restaurant and used for breakfasts as well. The open air part of this restaurant offers a spectacular view of Spinalonga Island to wake up to. If you like buffets, then this is the restaurant for you.
Arsenali Lounge Bar
This bar offers stunning views of the Aegean Sea and is a great place to kick back and unwind. Open from 09:30 – 01:30 with complimentary Wi-Fi.
Votsalo Bar
Overlooking one of the pools with a nice view over the premises. Open 19:00 – 23:30. Complimentary Wi-Fi here as well.
Isola Beach Bar
On the beach and open 09:30 – 18:00. The DJ does a great job providing soft tunes for sun bathing. Beach party on Saturdays which is quite nice, even if you are not the typical "Café Del Mar-type".
Meetings, Events & Weddings at Blue Palace Resort & Spa.
The meetings space is 532m2 and offers 6 different meetings rooms, ranging from 22 – 232 m2. You will have lots of opportunities for both incentives, conferences and weddings. The smaller conference rooms are intimate and of very high standard. The larger conference rooms has everything you need but lack a little charm.
I see lots of opportunities for a great Incentive trip for your high performers. Remote, but still fairly easy to reach and conference and activities can be mixed in a varied, exciting program.
Conclusion
If you want to experience Crete but are sceptic joining a packaged tour for 7 or 14 days, this is a great opportunity. You like the finer things in life but will also accept that the property was not designed last month. Personally, I recommend Blue Palace Resort & Spa and rank it 4,7 of 5.
Combinations
I would combine this with a couple of days in Athens because I love the combination of big city and islands. 2 or 3 days in Athens will also make the journey feel shorter if you are not able to find a direct flight to Heraklion.
Links
The resort´s homepage is found on: http://www.bluepalace.gr.
Please share your Blue Palace reviews via email, in the comments below, on Twitter, Facebook or Google+.