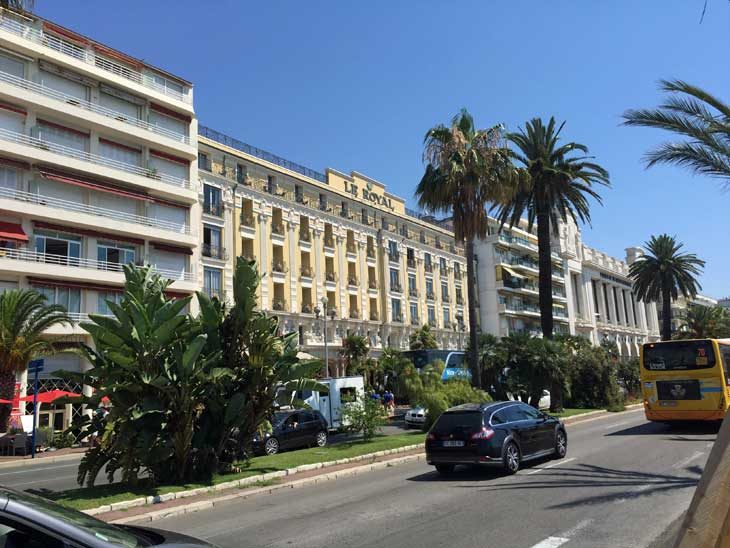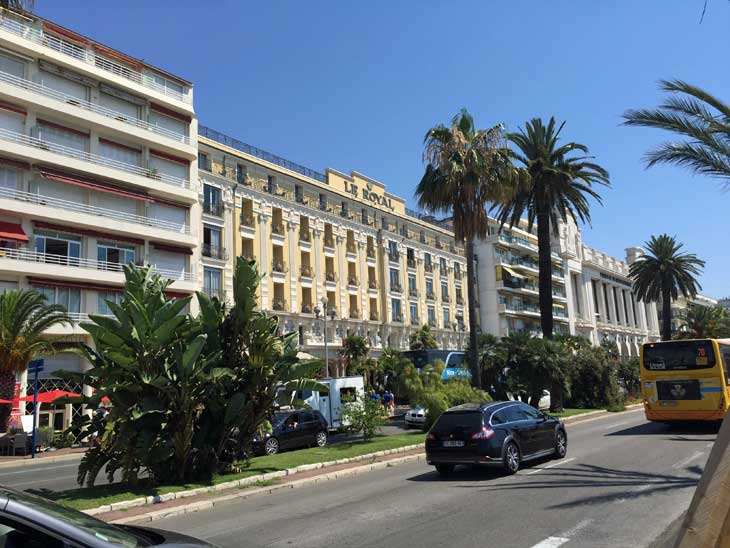 Review of Hotel Le Royal Promenade in Nice, France
There has been a lot of 5-star hotel reviews on my site but recently I had the pleasure to stay at Le Royal in Nice. It is a 3-star hotel  just on Promenade Des Anglais and owned by Bleuvacances. Here is the review of Hotel Le Royal Promenade.
Location
It is located on the famous Promenade Des Anglais, just a block and a half from the iconic Hotel Negresco, which means you are on the beach with a 10 – 15 min walk to Nice Old Town, 15 – 20 min walk to the Central Station (Gare SNCF) and shops and restaurants just behind the hotel. Of course, there are lots of restaurants on the Promenade as well.
If you are flying in to Nice Cote D´Azur Airport you can easily take the bus that stops more or less outside Hotel Le Royal Promenade in Nice (bus stop Congrés Promenade). The bus fare is 6EUR and is bought, with credit card or cash, at the Lignes Azur ticket counter at the airport. When going from Hotel Le Royal Promenade to the airport you can get tickets on the bus if you pay in cash.


Ambiance
The hotel is in a beautiful turn-of-the-century building and looks very majestic, sitting in the mixed architecture on Promenade Des Anglais. The interior in the reception and common areas is a bit dated but a good match with the building.
Service
The service is friendly and most of the staff speaks English, which is not something you should take for granted in France. The few who did not speak English referred me to a colleague who spoke it and everything was fine.
Rooms
The most pleasant surprise was the room! I got a sea view room on the 4th floor, overlooking the beach and Promenade Des Anglais, with a balcony big enough to fit 2 chairs.
The room has been renovated recently since it differs in style from the rest of the hotel. Judging from the interior design and the general status, I would guess they were done 3 – 6 years ago but it is very hard to tell.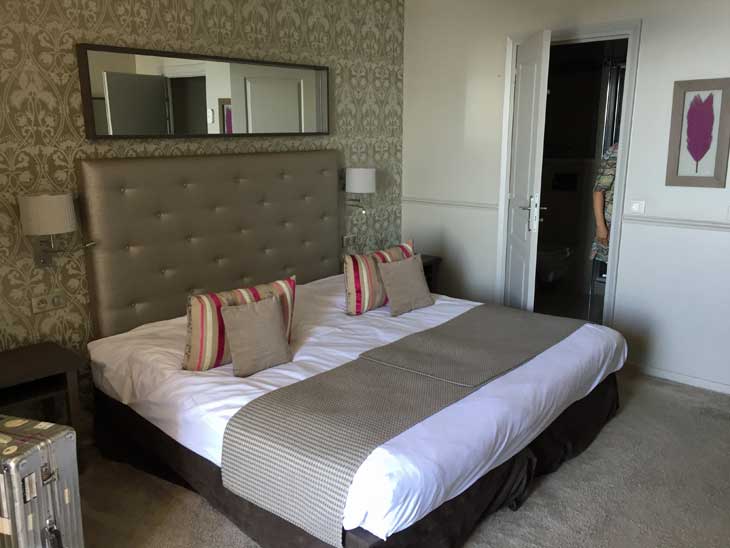 Bathroom and WC is from the same era as rest of the room, which means that they are fresh, nice and functional. The amenities were: shower cream in squeeze tube on the wall, soap by the sink and some body lotion. This is what I expect at a 3-star hotel and not a problem for me since I do not rely on in-room amenities and always bring my own.
Rooms are quiet, both in terms of air-conditioning and outside noise from the busy Promenade. I did not hear any traffic noise at all when I had my balcony door closed.
Beach
In Nice there are two types of beaches: Plage Privée (beach clubs with restaurant and bar where you pay to a sunbed, umbrella and towel) and public beaches (where you bring your own gear and drinks). You have both types just outside the hotel, across Promenade Des Anglais.
As most beaches in Nice, it is a stone beach and you probably want to bring a pair of bathing shoes. If you don't have any bathing shoes, you can easily get a pair in the souvenir shop around the corner or at the Carrefour Supermarket 2 blocks away from Hotel Negresco.
There are showers on the public beaches too.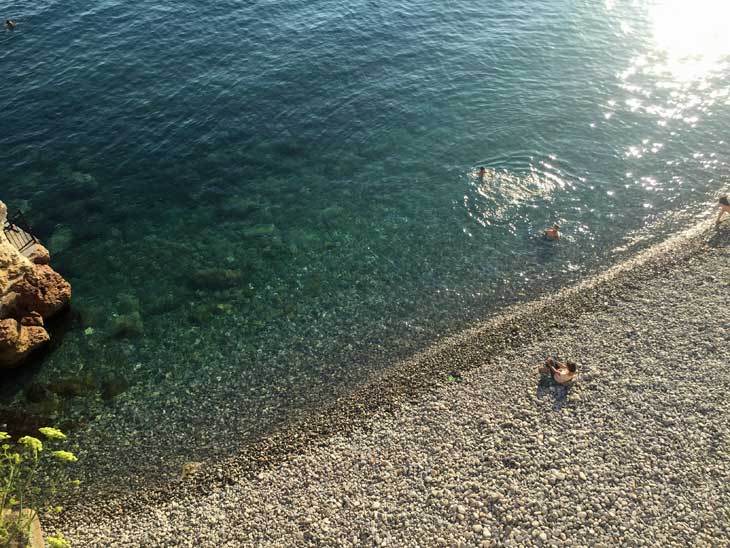 Breakfast Buffet
This is where we will have to set the expectations right. If you are expecting a full American or English breakfast you will be disappointed because the breakfast buffet at Hotel Le Royal Promenade is Continental.
A Continental breakfast consists of a cup of coffee, a croissant and maybe a cigarette. You will not find cigarettes on the buffet at Le Royal but you will find pastries, baguette, toast, ham & cheese, yoghurts, juices and scrambled egg and sausages. You are on the continent, and as a Continental breakfast it is very good!
Conclusion
Hotel Le Royal Promenade is exactly what it says: a 3-star hotel on Promenade Des Anglais. You will find all the amenities and services you can expect from a well-run hotel. You will not find the latest design, the hippest bars or a gourmet restaurant but everything works as expected or better. Well worth the money if you want my opinion, which you probably wanted if you have read this far.
The only negative thing I can think of is the Wi-Fi in the guest rooms which is extremely slow and only accessible after logging in through a web page. You can browse the web and email but don't expect to watch streaming video or back up your photos to the cloud in an efficient way.
What are your thoughts on Hotel Le Royal Promenade in Nice? Please let me know via email, in the comments below, on Twitter, Facebook or Google+.