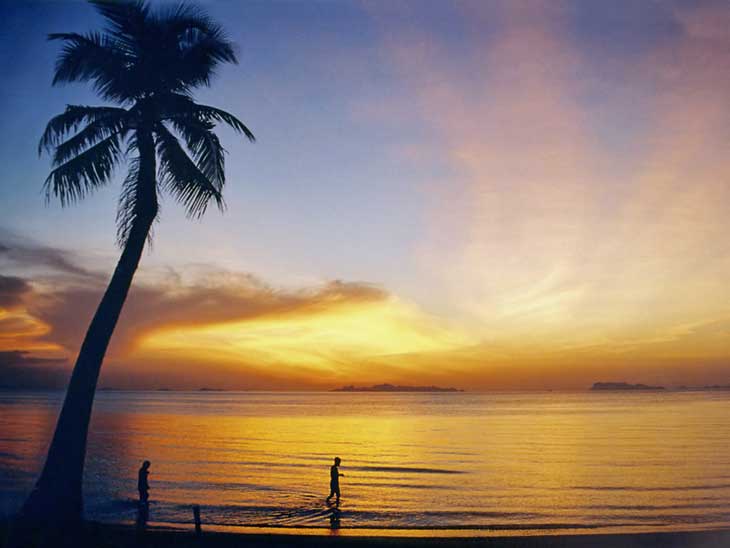 Top 5 Luxury Villas in Koh Samui
Koh Samui has long been one of the most sought out locations for tourists in seek of both adventure and escapism in South-East Asia. Each year, scores of backpackers, and holiday makers flock to its sandy shores in search of paradise, and each year they find it!
It's a glorious tropical island with some of the most mesmerising beaches and luscious landscapes coupled with a rich cultural tapestry that spans back to its earliest settlement some 15 centuries ago.
Fast forward to today and you'll discover a vibrant paradise with bustling towns, colourful nightlife, and a wealth of water sports and other exciting excursions to keep you engaged.
Where to Stay on Koh Samui
When it comes to accommodation on Koh Samui, you'll certainly find no shortage of suitable properties to rent out for the duration of your trip. No matter what budget you are working with, you will be able to find yourself a private sanctuary to sleep off those cocktails and find respite from the relentless (but by no means unpleasant) sun.
For this article, we have consulted the luxury travel experts from Inspiring Villas who specialise in luxury villa accommodation in Koh Samui; so, if it's a quaint beach hut that you're after then you've come to the wrong place. However, if it's an exceptional 5-star villa with all of the amenities that one could ask for that you're in search of, then we have five of the top luxury villas in Koh Samui that we'd love to share with you!
1)     Miskawaan Beach Villa | 14 Bedrooms Villa | Maenam, Koh Samui
Miskawaan Luxury Beachfront Villas (aka, 'The Residences'), is located in Maenam, Koh Samui. It is the combination of two breath-taking villas that are each connected to an elegant beachfront retreat.
Featuring 8 comfortable and chic bedrooms (including a cosy bunk room for the kiddies), and generous open living spaces, you'll have plenty of room to breathe. The villas are centred around a sea view swimming pool that offers exceptional views of the white sand beach that lay astern.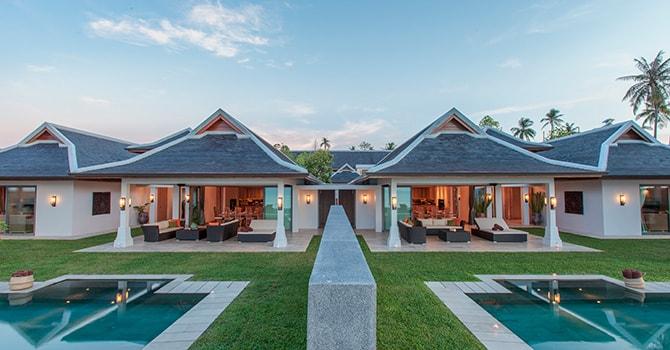 These villa's boast state of the art kitchens, contemporary lounge and dining areas, and social areas both inside and out. Miskawaan is the perfect spot for large group gatherings and a high-class holiday to remember!
2)     Sangsuri Estate C | 15-21 Bedroom Villa | Bophut, Koh Samui
The Sangsuri Villa Estate consists of 3 villas which boast a combined 21-bedroom beachfront estate. This is arguably one of the most stunning tropical retreats imaginable, located only an easy 10 minutes away from the bustling town of Chaweng.
The Sangsuri Villas are among the largest and most luxurious tropical estates on the island and are literally perfect for large groups who love getting together, partying, and enjoying one another's company.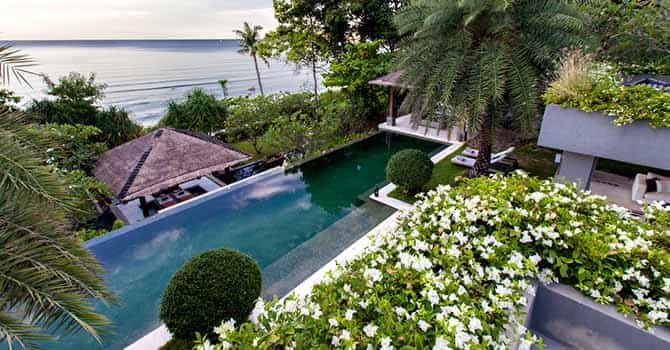 The primary facilities in these villas include a spacious private indoor cinema room, a shared estate gym, some truly stylish jacuzzi tubs, and a magnificent poolside BBQ zone.
Other highlights include a delightful kitchen, ample open-plan dining & living areas, luscious garden terraces, and an infinity pool which effortlessly pours over the ocean. If you're seeking a vacation of which dreams are made, then Sangsuri Estate C is the answer!
3)     Villa Skyfall | 5-8 Bedroom Villa – Choeng Mon | Koh Samui
Villa Skyfall is a fresh 8-bedroom private villa which has all of the modern conveniences that you could ask for. There's a large swimming pool, a number of specious areas for relaxing, an indoor movie theatre, a lounge bar with a pool table, and an iconic outdoor pool bar.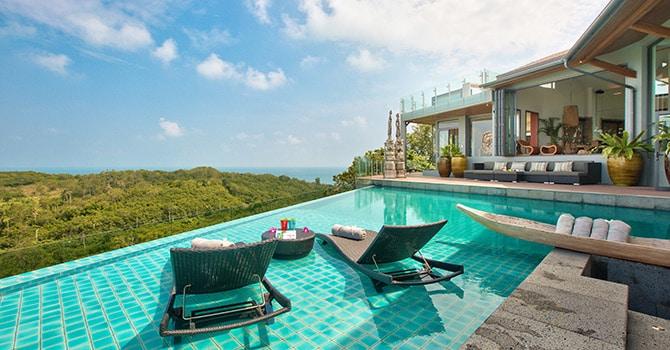 This masterful accommodation boasts views over the neighbouring island of Koh Phangnan and the Ang Thong Marine park. With modern Thai and antique Asian furniture, the Villa is truly an interior designer's dream given its unique nature fused with an Eastern architectural design.
Villa Skyfall is conveniently close to the Choeng Mon Beach, Big Buddha Statue, and the Koh Samui Airport. If privacy, convenience, and uncompromised luxury is what you are after for your next vacation, then Villa Skyfall is not to be overlooked!
4)     Villa Sila | 5-7 Bedroom Villa | Maenam, Koh Samui
Villa Sila might just be one of the most elegant beachfront retreats on the island; perfect for a large group of friends and family who adore their home comforts, and a sandy beach for the ultimate level of relaxation.
With 8 comfortable and chic bedrooms (not forgetting the special bunk from for the children), this spacious villa can accommodate you wonderfully. There are large and open living areas with a refreshing blue-tiled pool which overlooked the neighbouring beach.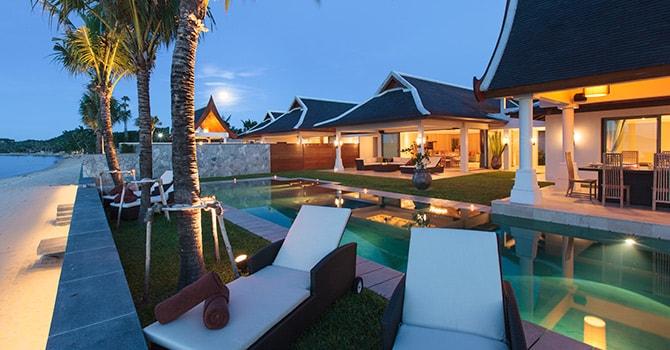 Facilities include a high-end kitchen, contemporary lounge & dining areas, a private sauna and fitness area, and even and outdoor massage sala!
Villa Sila is without question, an idyllic retreat which rests in the heart of one of Thailand's most beloved tropical paradises.
5)     Baan Hinta | 4-5 Bedroom Villa | Lamai, Koh Samui
Baan Hinta is a lovely 5-bed beachfront villa, located in the heart of Lamai, Koh Samui This holiday estate is unique and luxurious in all of the right ways! With creative architecture which effortlessly highlights the islands natural beauty & surrounding ocean, you won't find a more aesthetically endearing villa than this!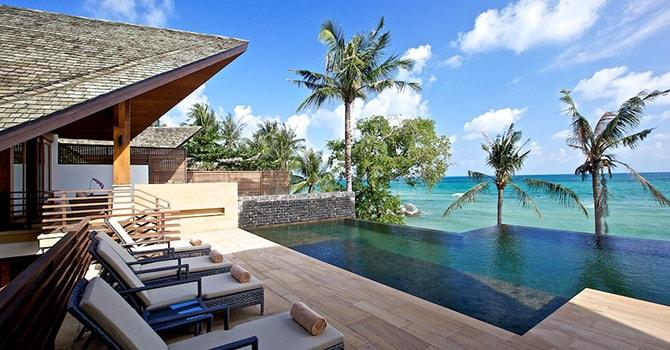 The Villa rests on the edge of a beautiful beach with little rocky outcrops, white-golden sand, and the turquoise waters which are often found only in dreams. Some of the main highlights of Baan Hinta are the outdoor Thai Sala & BBQ area, the generous infinity pool & sundeck, and its inviting outdoor lounging areas.
This truly is a villa that is designed to please those who favour perfection!
Conclusion
Of course, if none of these spectacular villas pique your interest, then there are plenty of other options that can be found on Inspiring Villas website.  However, we have hand-picked these 5 as being among the most lavish and inviting properties on the island of Koh Samui.
If you're planning a memorable escape in what is among the finest tropical destinations in the world, then you really can't go wrong with our selection! In any case, we wish you the best of luck on your adventures!
Please share your dream villas in Koh Samui in the comments below, on Twitter, Facebook  or Instagram.