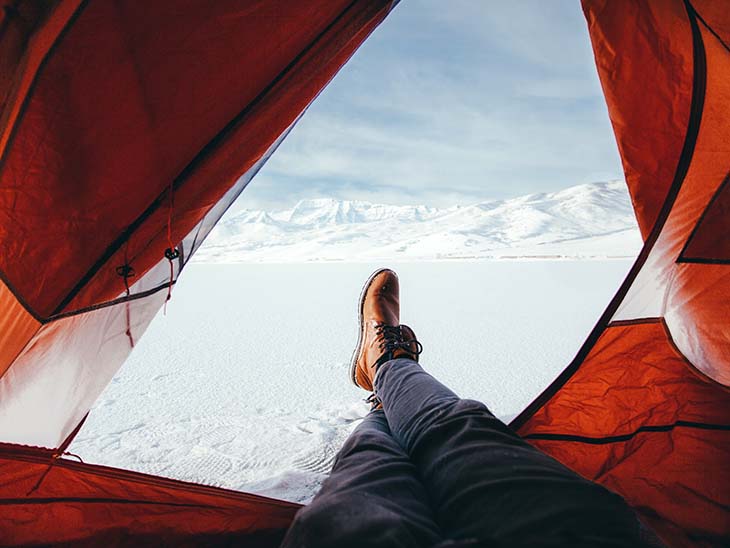 What You Should Take For Winter Camping: A Guide Through Winter Camping Gear
The simple rule of winter camping is to stay dry and warm.  Having the right gear can be the cornerstone to having fun in harsh snowy weather.
Winter camping gear
The necessary camping gear for winter camping is a lot like what you use at other times of the year, but with an emphasis on warmth and durability. Here are some details on key items:
A tent gives you a roof over your head which is extremely important when camping. High-quality  3 person tents for camping that can handle the winter weather. Keep the following in mind when choosing a tent for winter camping:
You can use a typical three-season tent if your camp is below the tree line and no surprises in the form of blizzards and snowstorms are expected during your camping trip.
For high winds and heavy snowfall, it is recommended to choose the best 4 person 4 season tent. 4-season tents have stronger poles and heavier fabrics than 3-season tents, so they can withstand strong wind gusts and heavy snow loads.
You'll need extra space. It's a good idea to buy a tent that has extra room for one more person. This will allow you to better accommodate your gear.
Backpacking: winter camping and backpacking require extra gear and warmer and bulkier clothing, so you may need to use a backpack with more volume than in the summer. Pack it as lightly as possible, but make sure you are prepared for winter conditions. If you plan to carry skis or snowshoes, make sure your backpack has points for securing them and that they can secure these large items.
Sleeping bag: to ensure comfort on cold nights, a sleeping bag with a comfort temperature of -20°C or lower is recommended. If you get hot in it, you can always unzip the sleeping bag.
When choosing a sleeping bag consider the following things:
Cold-weather sleeping bags are made with lots of goose-down or synthetic insulation. Down is optimal because of its superior warmth-to-weight ratio. Just make sure it stays dry (down loses most of its insulating power when it gets wet).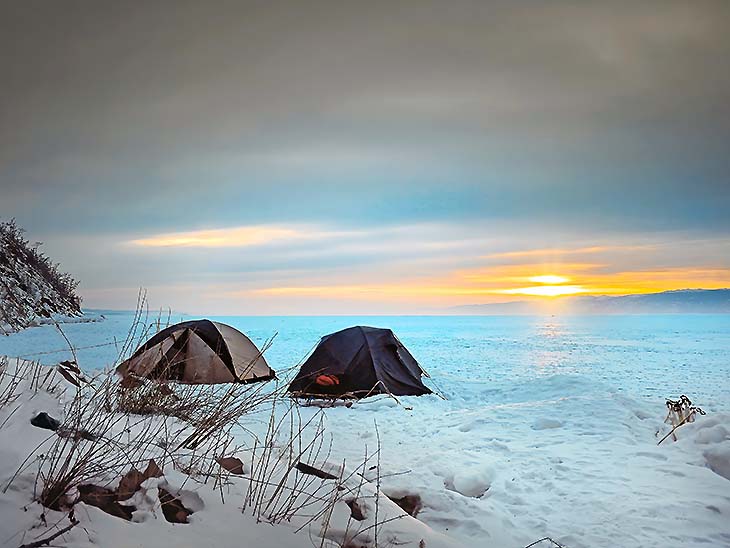 If you're not sure your sleeping bag is warm enough, you can add a liner to it. It will add extra warmth as well as minimize wear and tear and keep your sleeping bag clean. The extra layer can add about 5°C more warmth.
The thermal mat which provides the necessary insulation and cushioning. Try using two full-length mats for winter camping to keep your body warm while sleeping on snowy surfaces. Use closed-cell foam next to the ground and a self-inflatable top to get the best insulation from the cold ground. The foam also serves as insurance in case the self-inflating mat gets punctured.
Gas Burner: A great option for winter camping. You can choose either a standard burner or a multi-fuel burner. It depends on how far you have to go with your backpack and how heavy it is. Either way, both are great for heating water and will make your winter camping experience more comfortable.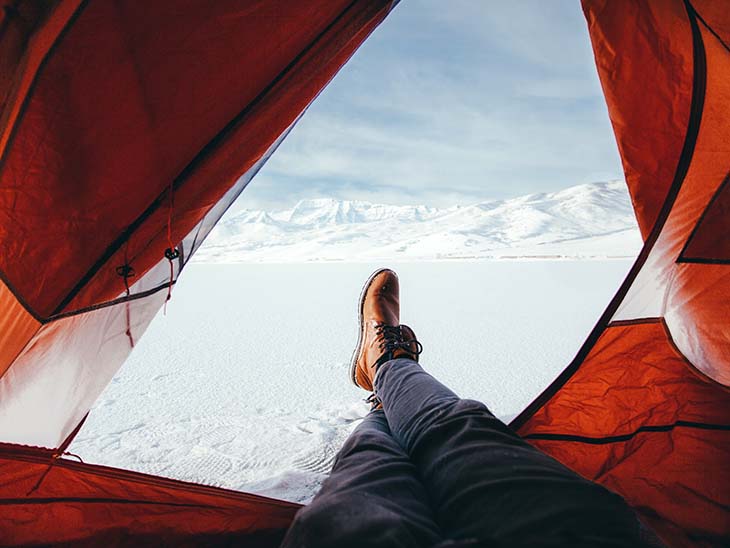 Multi-fuel burner: Can run on a variety of fuels. It can be gas, gasoline, and other liquid fuels. They tend to be heavier, and water boils more slowly with them. The main advantage is that it can be used at any altitude, it is easy to take it with you to other countries and it is fueled easily.
Gas burner: it works only on liquefied gas. These burners are lightweight, water boils quickly, but they don't always work well in cold weather.
Some tips for choosing a reliable stove
Spare burner: It's handy to have a spare burner in case the main burner breaks down. In addition, having a second burner can significantly reduce the time it takes to cook for a large group.
Extra fuel: Keep in mind when going on a trip. That you might need more fuel to melt snow for drinking water and cooking at high altitude.
Make a base for the burner: this will help give it more stability and the burner will not fall through the snow because of the heat. Also, wrapping foil around the base can make a nice heat reflector.
Snowshoes, skis or snowboarding: If there is not much snow, then moving around in your boots on your own should not make you uncomfortable. If you plan to walk on icy slopes, it's best to stock up on climbing crampons. However, if there is a lot of snow, you may need a special device for walking in deep snow. Consider the following options:
Snowshoes: if you're not a skier or snowboarder, snowshoes are probably the best choice for you. There is nothing difficult about hiking on snowshoes, they can be easily mastered by a person without special physical training.
Skis: cross-country skis are good for rough terrain. For steeper slopes it is better to give preference to carving skis.
Snowboard: you can take a snowboard for a quick descent downhill, but you will have to carry it on your own uphill.
Avalanche equipment: it will be useful if your route goes through avalanche terrain. It's important that you carry three of these and know how to use them:
Avalanche transmitter: emits a signal that other transmitters can receive. It makes it very easy for rescuers to find avalanche victims.
Probe: or stylus is a folding pole with depth marks. It is needed to probe the snow.
Snow shovel: needed to dig out avalanche victims. It is also an important tool that can be used to level a tent site, dig a snow shelter, or get fresh snow to melt drinking water.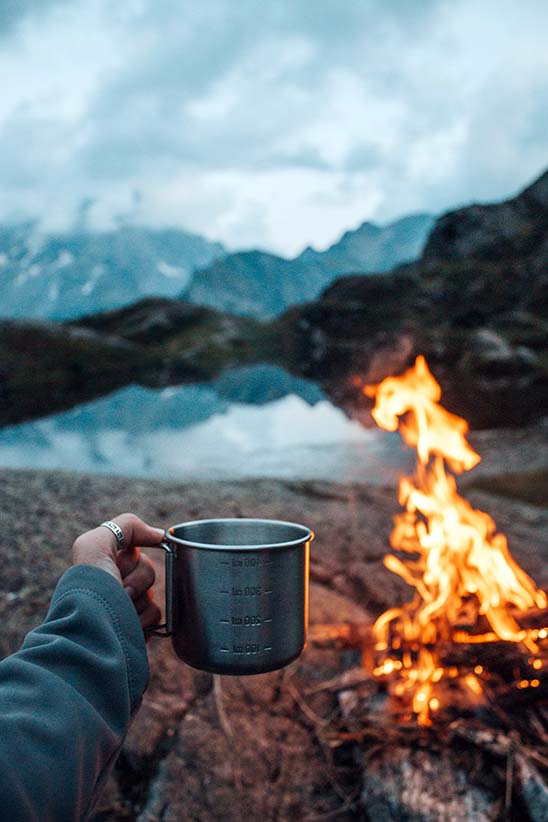 What clothes do you need for winter camping
The right clothes and the right layers are key to your comfort while winter camping.
Base layer: this is the layer of thermal underwear that comes in contact with your skin. For winter camping, use medium-density thermal underwear – it's a good choice for versatile use. Look for fabrics like polyester or wool that wicks sweat away from your skin and dries quickly.
Mid-layer: This is your insulating layer, which is primarily designed to help you keep your body warm. In general, the thicker (or fluffier) it is, the warmer it is. For your upper body, most winter campers prefer a down jacket or synthetic insulated jacket. If you prefer fleece, make sure your jacket is thick fleece. Fleece pants or warm thermal underwear are good for insulating your legs.
Outer layer: called a shell, this is your waterproof/breathable protection from snow, sleet, rain and wind. In winter, it's important to have a fully waterproof jacket and pants, not just water-resistant ones, because if moisture penetrates your inner layers, you can get seriously cold. However, these items of clothing should also be breathable so that the sweat expelled by your base layer can evaporate.
Accessories: these simple items can keep you comfortable on cold days:
A winter hat: a regular wool or synthetic hat will work well. Make sure your hat covers your ears. If your face is freezing, consider a mask or balaclava.
Gloves and Mittens: Fleece gloves are enough to keep your hands warm, but insulated gloves with waterproof/breathable membranes are better. Mittens are warmer, but you sacrifice dexterity. Whatever you choose, it's wise to bring an extra pair in case the main pair gets wet.
Goggles: always protect your eyes from the sun and wind. If you're expecting bright sunny days, you'll need glasses with dark lenses and a visible light transmission (VLT) of about 0 – 19%. On cloudy weather, lighter lenses such as yellow, gold, amber or pink help improve contrast. VLT around 20-40% or even higher are great for cloudy weather.
Socks: Choose special trekking socks. The required thickness of your socks is determined by the fit of your foot in the boot. An incredibly thick sock will not keep your feet warm if your boots are too tight.
Footwear
If there is only a few inches of snow on the ground, you can use traditional hiking boots. But in deep snow, you will appreciate waterproof and heat-insulating winter or mountaineering boots. Using gaiters (lanterns) will keep snow out of your boots, and add some warmth.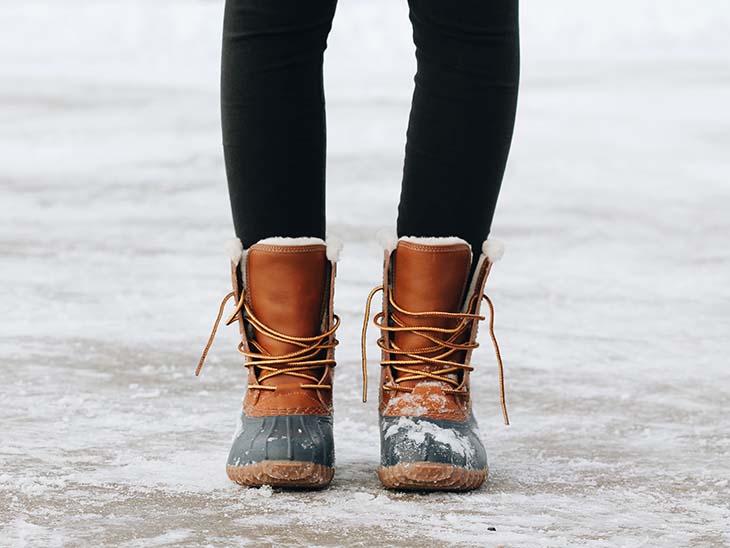 Skiing and snowboarding, of course, require their own boots that are compatible with their bindings.
Tips for winter camping
Eat food to stay warm. Your body produces heat when it digests food, so if you're cold, try to eat some food. Before you go to bed, have a little snack to speed up your metabolism.
Use your foam mat not only for sleeping. You can sit or stand on it while cooking.
Fill the space in your tent. A bunch of empty space in your tent will make it difficult to warm up the inside space. Therefore, you can take your backpack and other gear inside the tent and spread it out on the floor of your tent for extra protection from the cold. It's important to avoid sharp objects that can tear your tent, such as staples and axes.
Exercise before going to bed. Do 50 jumps, jog, or chase your friends around camp. When your heart rate increases and you feel warm, get into your sleeping bag and button it up tightly.
Fill a bottle with hot water and place it in your sleeping bag. This makeshift heating pad will help you get warm faster. Be careful to tighten the lid of the bottle securely.
Keep your boots inside: if you put your boots inside the tent they will be a few degrees warmer than if you leave them outside. Warm boots are much nicer to put on in the morning. If your boots have removable insoles, keep them warm at night by putting them in a sleeping bag (this rule also applies to socks)
Sleep in clean clothes: over time, sweat and dirt can rob your sleeping bag of its insulating power. Change into clean underwear and socks to sleep in.
Stack bottles upside down: water freezes from top to bottom, so bottles are less likely to freeze when stacked upside down. Just make sure bottle caps are properly screwed on and don't leak.
Keep your electronics warm as cold temperatures can reduce battery power. When you're not using it, put things like your flashlight, cell phone, GPS, and extra batteries in your sleeping bag or jacket pocket next to your body.
Secure your camp. Before you leave your camp for the day or fall asleep at night, make sure that anything that could easily be blown away by the wind or covered by snow is securely tucked away. Put your skis or snowshoes upright so they don't disappear under the snow, and make sure things like your stove, shovel, and water bottles are tucked away so they can be found.
Do you have input on winter camping? Please let us know in the comments below, on Twitter, Facebook  or Instagram.