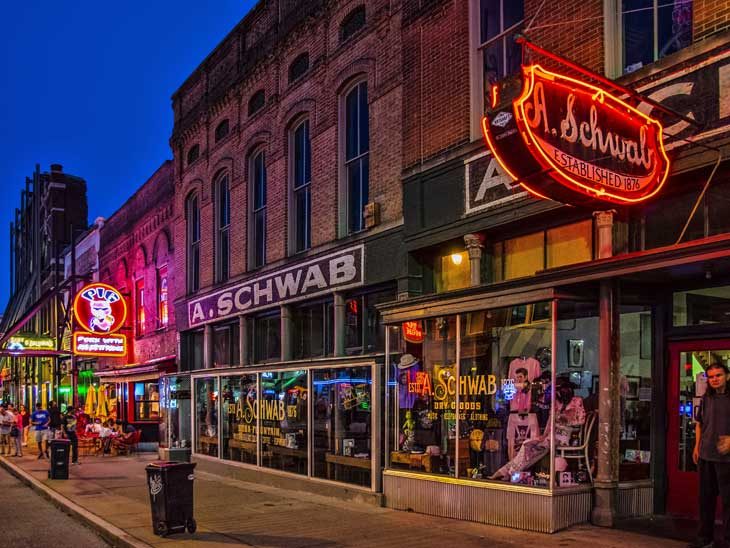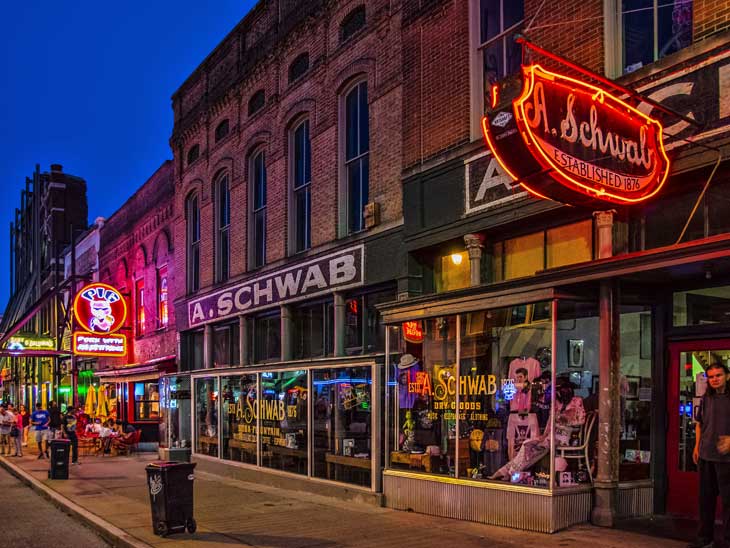 7 Music-Inspired Things to Do in Memphis
And a 1, 2, 3, 4! Hit all the high notes on your next trip to Memphis when you explore the city's musical history and culture. Between launching some of the world's greatest musicians to superstardom and cultivating a thriving local music scene, your toes will be tapping throughout your time in Tennessee. Without further ado, let's introduce some of the best music-inspired things to do in Memphis.
Get to know the King at Graceland
We know you can't help falling in love with Memphis, and the iconic piece of music history that is Graceland is yet another reason to adore this city. Visiting Elvis' home is a Memphis essential that draws visitors from around the world. In fact, it holds the second spot on the "most-visited homes in the world" list, losing out only to the White House.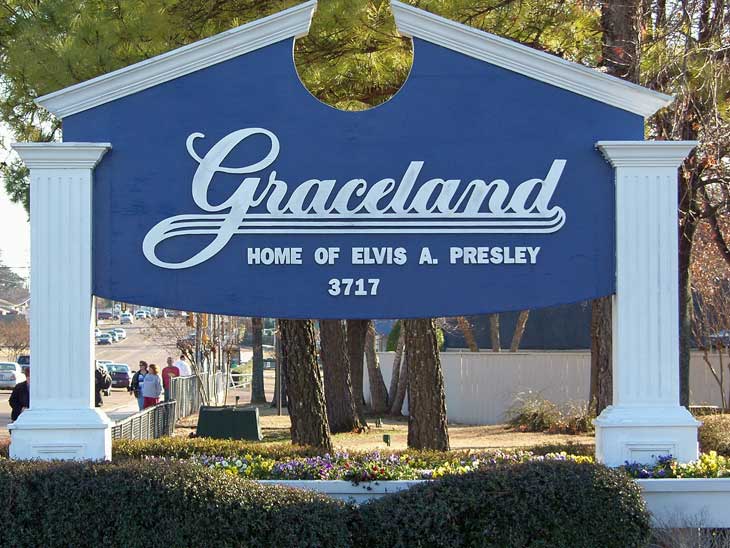 Part museum, part interior design marvel, Elvis' estate contains much of its original furniture, artwork, and decor. Some Presley family mementos are even on display, so you can almost picture the famous family living their daily life there. Sorry, you can't spend the night at Graceland, but you probably don't want to choose a heartbreak hotel either. How about one of the fabulous Memphis Vacation Rentals?
Pay homage to the greats at Sun Studios
While Elvis lived at Graceland, he recorded his greatest hits elsewhere. Sun Studio, which launched his career, still stands in Downtown Memphis, and it's a must-see for any fans of 1950s and 1960s music. The famous studio is the original home of Sun Records, where not only Elvis, but also Jerry Lee Lewis and Johnny Cash, created some of their legendary tunes.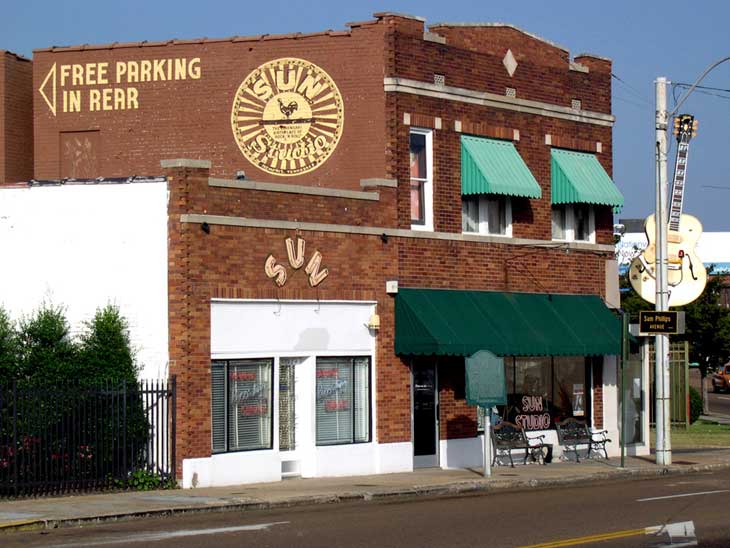 Some music historians even say Sun Studio was the birthplace of rock 'n roll. Swing by the recording studio's famous facade whenever you're in Downtown Memphis; it's just a 15-minute walk from AutoZone Park.
Sing your heart out on Beale Street
A Memphis icon that needs no introduction is the one-and-only Beale Street, where music plays at nearly all hours and a good time is sure to be had. Along this renowned avenue, you'll find bars, cafes, restaurants, and clubs – all of which host bands and singers on a regular basis. Don't miss highlights like the Rum Boogie Cafe, the Blues City Cafe, and B.B. King's Blues Club. In addition to musical performances that will leave your voice hoarse, Memphis visitors are known to partake in a few adult beverages in these establishments, so be aware if you bring the young'uns after dark.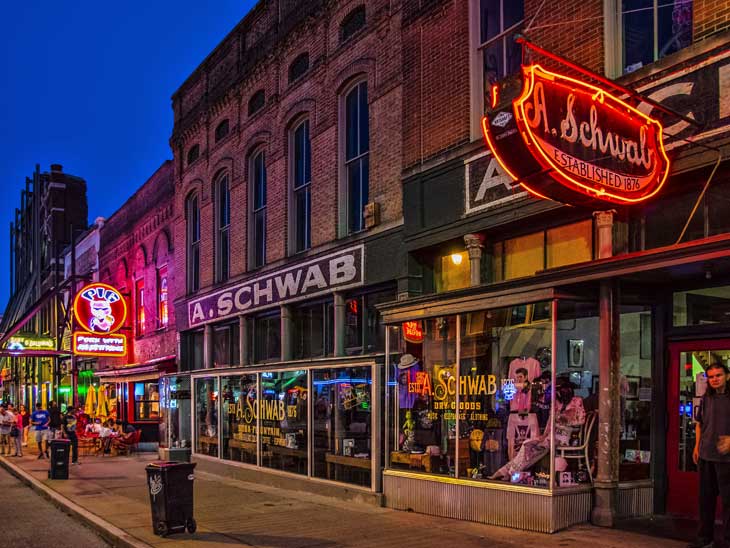 For more specific musical tastes, you may want to pop into Silky O'Sullivan's (with an Irish bent), Itta Bena (cabaret), or Jerry Lee Lewis' Cafe & Honky Tonk (heavily influenced by Jerry Lee Lewis).
Learn about showbiz at musical museums
Beyond just listening to energetic numbers around the city, take your musical knowledge to the next level by diving into the history of the Memphis music industry. There's no better place to get acquainted with Memphis-born legends than the Memphis Music Hall of Fame. Here you can explore exhibits not only about Elvis and Johnny Cash, but also more recent hitmakers with links to the Home of the Blues, like Justin Timberlake and ZZ Top. For more musical memorabilia, be sure to check out the Memphis Rock 'n' Soul Museum and the Stax Museum of American Soul Music.




Dine with a soundtrack
B.B. King's Blues Club on Beale Street is likely the most famous venue-meets-eatery, but it's not the only place in Memphis where you can enjoy a delicious meal along with a feast for the ears. Lafayette's Music Room serves up both tasty Southern fare and live tunes in a variety of genres, from jazz to bluegrass to cover bands. If piano bars are more your style, Mollie Fontaine Lounge is known just as much for food as for music, as their menu features mouthwatering dinner options. Or, listen to the sweet sound of a saxophone at the jazz-focused Onix, where you can also dine on favorites like fish tacos and chicken and waffles.
Listen to the sounds of nature in Memphis parks
Who says music needs to be man-made? Soaking up the sounds of the great outdoors at a beautiful Memphis park is the perfect way to relax after a night out on the town. We recommend checking out the river views and the soothing water sounds at Tom Lee Park or Mississippi River Park, both of which sit on the banks of the Mississippi River. Or, head inland for forest-like sounds at Overton Park – where you also might hear the celebratory cheers for a hole-in-one on the adjacent golf course. Or, more likely, just birds chirping.
Now that you have at least 7 music-inspired things to do on your Memphis bucket list, your trip will definitely be a smash hit. Please share your best tips for the musical side of Memphis in the comments below, on Twitter, Facebook  or Instagram.