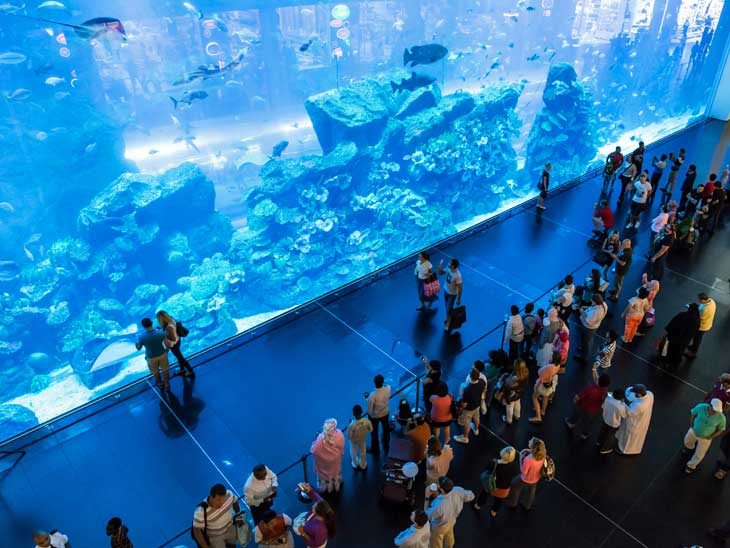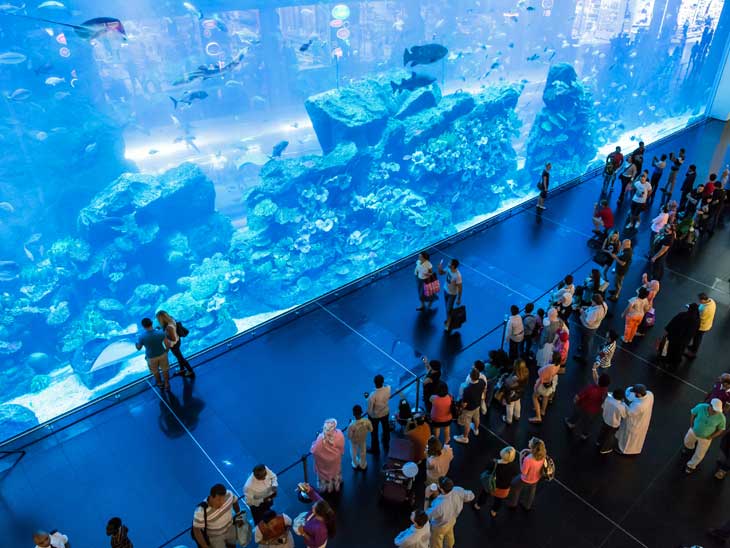 Guest Post: Free Fun Things to do in Dubai
Dubai is an amazing city, especially during the winter months when the climate is cooler and there is a festive ambience to the entire Emirate city. It is a perfect tourist destination with so much to see and do. However, you would soon find your holiday funds dwindling as you have to pay an entry for almost everything. Nevertheless, Dubai is not all about spending from your pocket to have a good time. There are several things that you can do without paying any money and sometimes just a nominal price. Let us take a look at the free fun things to do in Dubai.
Dubai Fountain
One of the most fabulous things that you can do in Dubai without paying a single dirham is watching the amazing Dubai Fountain. This is quite a huge fountain and is located right outside the Dubai Mall with the Burj Khalifa in the background. The specialty about this fountain is not just that it is the tallest in the city but the light and sound show that is performed every evening. The fountain has been designed to dance as per the sound of some soulful music. Added to these are the innumerable lights, giving you a show that you would not forget in a long time to come. What's best is that this shows happens every half an hour starting 6 in the evening to 11 at night, giving you the opportunity to catch the show as many times as you want. And I bet, once you view one show, you would want to see it again and again.
Malls in Dubai
Like everything in Dubai, the malls in Dubai are extravagant too. They hold surprises that you would never imagine in a mall. Apart from dozens of retail stores of almost all international brands and food courts that resemble several football grounds, you will find elaborate theme parks, aquariums and even ski parks inside the malls. Be it the Dubai Mall, Mall of Emirates or any other mall in Dubai, you can just walk around them for hours without getting bored. And all of them are free unless you want to buy something.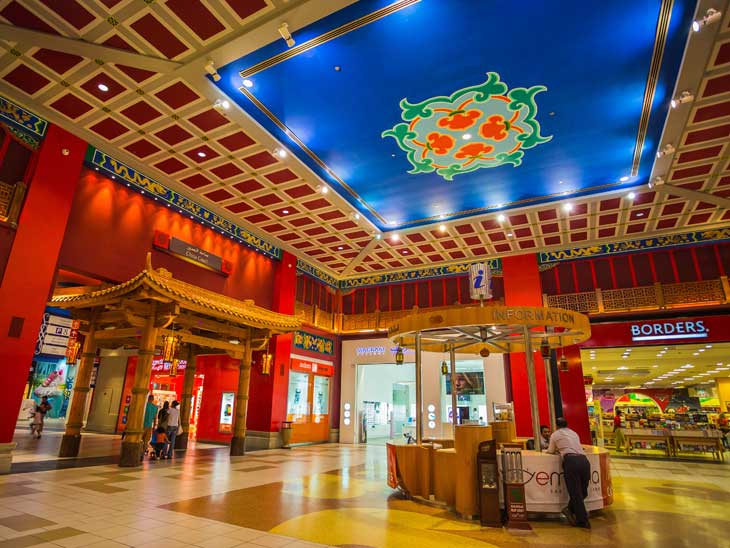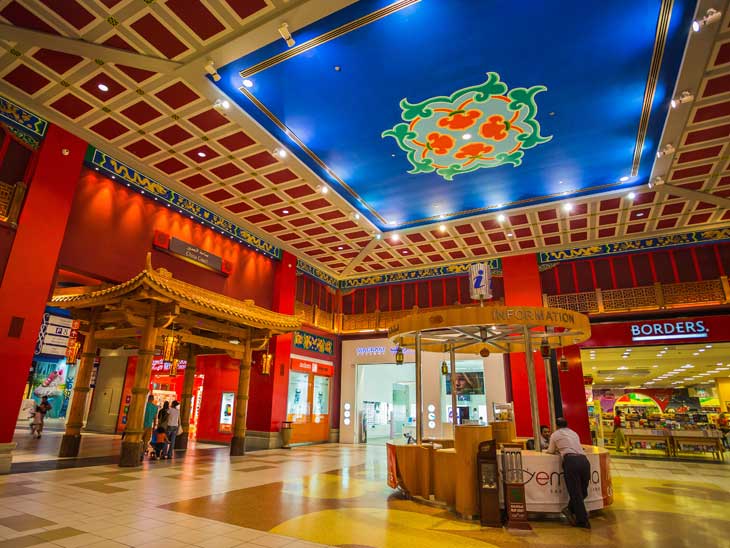 Dubai Aquarium
Dubai Aquarium lies inside the Dubai Mall, and you sure need to pay an entry fee if you want to see the aquarium and the underwater zoo connected to it. However, this does not stop you from admiring the huge acrylic panel at the entrance, which is considered to be the largest in the world and can be viewed by visitors from outside. The presence of the blue panel with thousands of marine animals swimming inside is surely a sight to behold. While you may not be able to catch all the 30, 000 marine animals, you would definitely be able to see a few of them.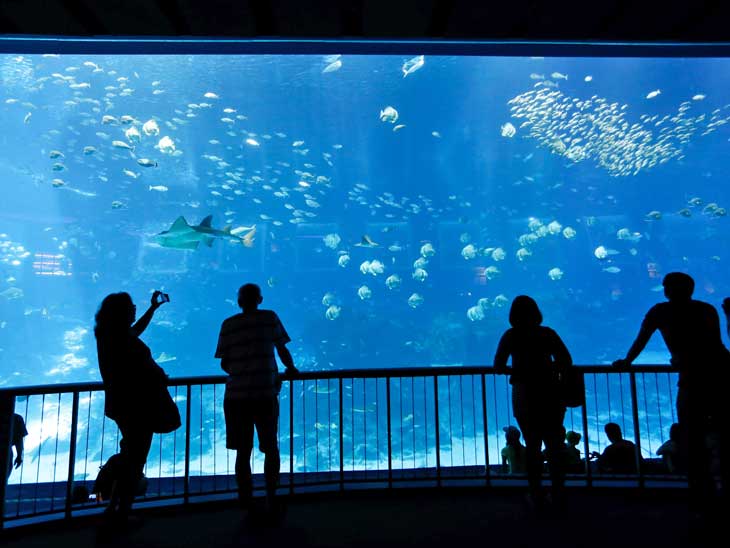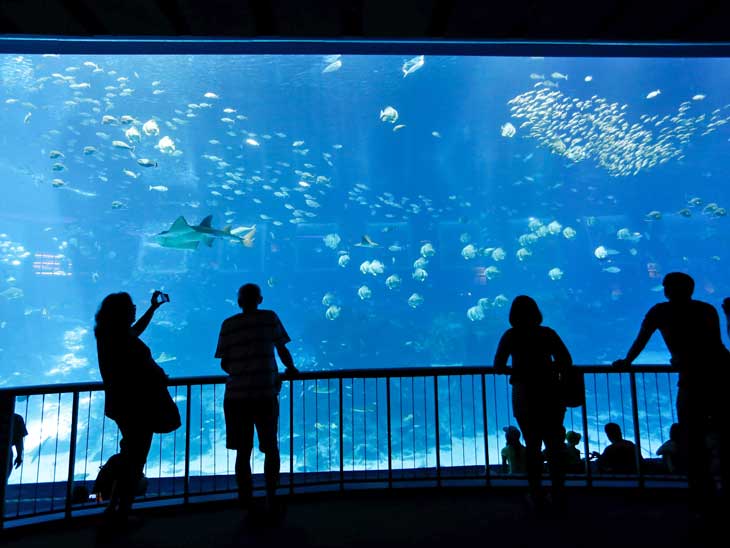 Bastakia Quarter
No holiday is complete without peeking into the past of the country or city. Dubai's past has been preserved in the Bur Dubai side of the Dubai Creek in the Bastakia Quarter. The Bastakia Quarter is a place where you can view the traditional Arabic buildings, especially the beautiful wind-towers. It is a pleasure to walk around these buildings which have been beautifully designed and are a symbol of the architecture of the past. Apart from this, there are several art galleries which display modern as well as traditional Middle-Eastern art. You can also visit the Sheikh Mohammed Centre which is located inside one of its beautiful buildings and where you get to learn about the Arab traditions and culture. There is also the Al Fahidi Fort, which is home to the Dubai Museum, although you would have to pay a nominal entry of 3 Dirhams which is worth every penny. You can also ride on the traditional Abra ride by paying 1 Dirham.
Gold and Spice Souks
Another place connected to Dubai's past, which you must definitely visit, is the souk in Dubai. Although malls have become super-hit in Dubai, nothing can take the charm of the gold and spice souks. It is a true delight to walk through the gold souks where you would find innumerable gold jewellery of different sizes and shapes on display. Same goes with the spice souks where you would be able to take a look at a variety of spices at one place. While the sights would mesmerize you, the smell of so many spices would definitely entice you. You are free to roam around both the gold and spice souks even if you do not want to buy anything. However, if you do want to buy something, do not forget to bargain; yes, even if it is gold that you want to buy.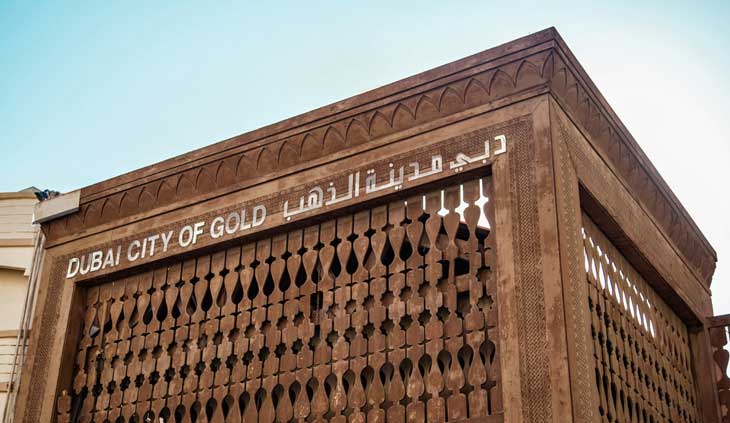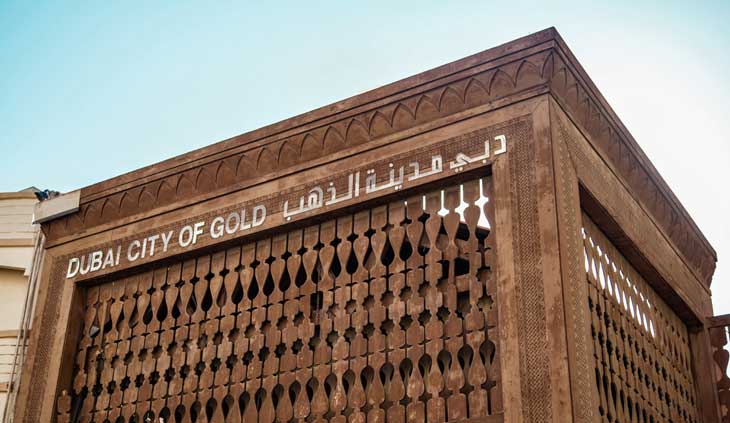 Beaches
As Dubai is flanked with the Arabian Gulf, there is no dearth of beaches in the city. While some of the beaches are privately owned by five star hotels, there are several which are free for the public. The beaches of Dubai are clean and pristine and are great opportunities to have a picnic with your family and friends. You can play beach games and some of the beaches also offer the opportunity to try some recreational sports. Some of the public beaches of Dubai that you can visit for free include Jumeirah Beach, Kitesurfing Beach, 4×4 Beach, Open Beach, etc.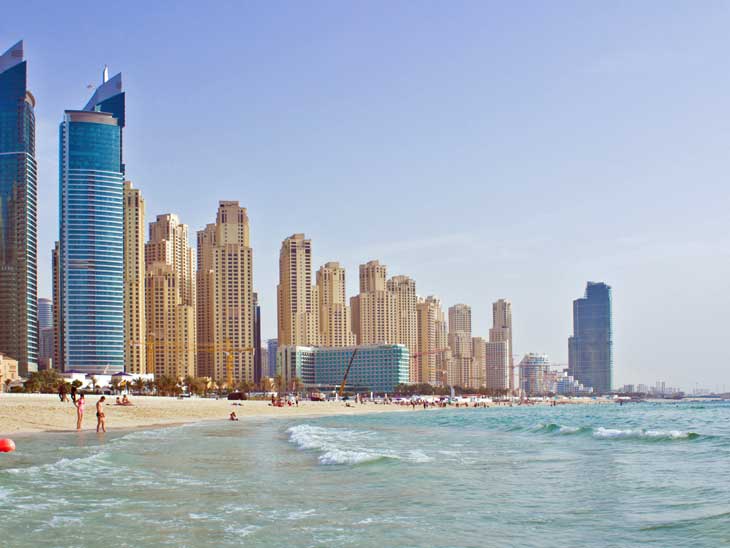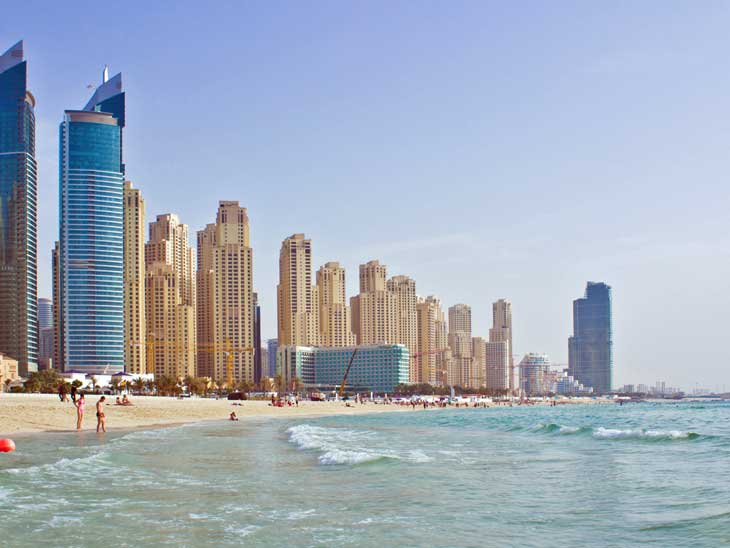 JBR Walk in Dubai
Jumeirah Beach Residence is one of the well-to-do residential areas. While the buildings and hotels in and around JBR are elegant, the highlight of this place is the Boulevard which is also called the Walk. It is a waterfront promenade which stretches for 1.7 km and is flanked by little restaurants and boutiques. While it is a great place for a stroll, it also offers entertainment opportunities like art exhibitions, music concerts, etc. for the enjoyment of the public.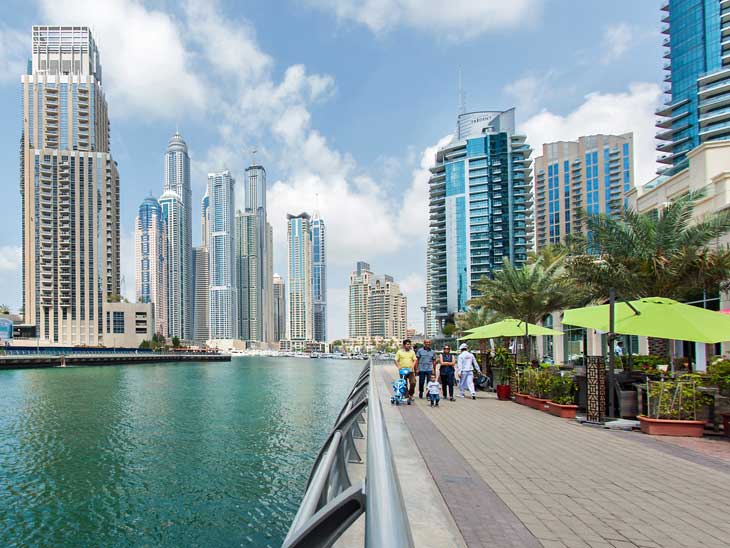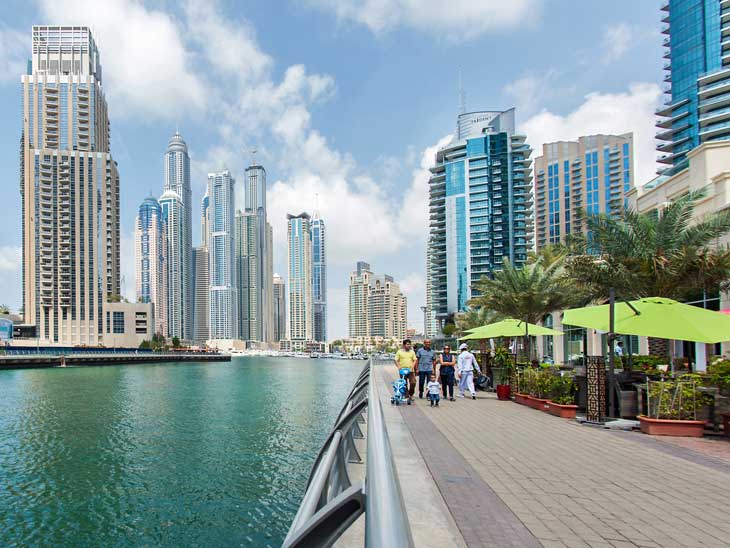 Dubai is a place where you can find several fun things to do without shelling out too much or rather any money. So, what are you waiting for? With so many things to do in Dubai, it is time to book your tickets, get your Dubai visa and fly to this wonder land. You would definitely have the time of your life in this extraordinary Emirate city.
About the Author
A postgraduate in Mass Communications, who loves everything about life. Traveling is extremely close to her heart and writing came to her naturally. An avid trekker & explorer, who often takes off some time from her busy life for mountaineering. She loves meeting new people & gets attached to their culture very easily. Her ambition is to explore as many places as she can in her life. She strongly believes in Gandhian principle – "simple living high thinking". Currently she works for OnlydubaiVisa in Dubai.
Have more tips about Dubai? Please do so via email, in the comments below, on Twitter, Facebook or Google+.