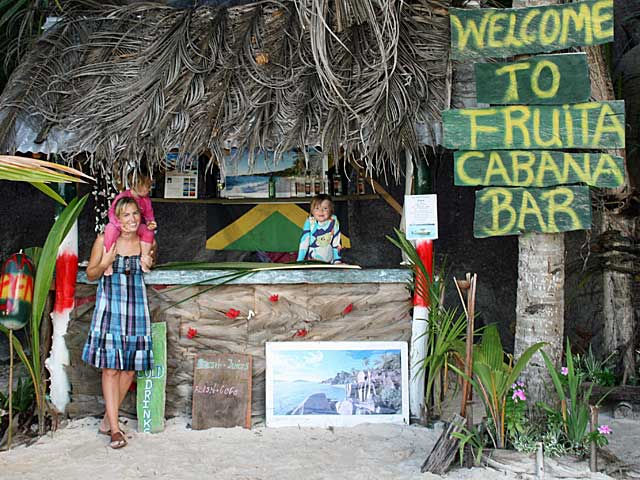 Interview with Barbara, the Author of Ants-In-Our-Pants, about family travel.
My family is really small, it is just me, my wife and our dog, which means I have no experience of travelling with children. Naturally, I have booked family holidays but in those cases the customer has been pretty sure of what to book already. I cannot claim I am the master of family holidays and that is why I enjoy Barbara's stories on her blog: Ants In Our Pants. In fact, I enjoy her writing so much that I had to have a chat with her.and a small Q&A. Here is the transcript.
Q. How old were your kids when they did their first trip abroad and where did you take them?
A. My first daughter was 6 weeks when we did a road trip through Europe. We travelled to countries like Croatia, Romania, Austria and Germany. When she was 6 months old we flew to Mauritius and La Reunion to overwinter. She loved the pool and the warm sea.
Our second daughter was 3 weeks old when we went on a road trip. After some short flights we took her with us to South Africa. She was 7 months then.
Q. For someone who considers travelling with their baby, what advice would you give them?
A. Stay calm. Whatever happens, it's important that you as parents are balanced. Let your child play with other kids on the plane and don't worry about things that might occur. We rarely have medicine with us or a lot of clothes. The most important things for us are multifunctional toys, books and fun.
Q. Can you bring kids to all destinations and places?
A: I would say yes. But one needs to decide if it's wise to risk malaria. Dirt, public transport and local food wouldn't discourage me.
Q. Everyone usually brings a first aid kit with bandaids, pills for the stomach and so on. What does a first aid kit contain when travelling with children?
A. You ask someone who's very risk affine … We never have bandaids or special medicine with us. If our kids are a bit miffed I give them nasal spray for the flight and have paracetamol with me, just in case. Otherwise we use only homoeopathic medicine. But these we take with us, as it's hard to get them everywhere in the world.
Q. Is there anything you or your children dislike about travelling?
A. I hate jetlags. My kids don't like to have no playmates. So we need to take care to visit playgrounds or even child care centre for that. They went already to kindergarten in South Africa, Romania and Mauritius – voluntarily.
Q. Children can be picky about food sometimes. Is there a trick to make them at least try everything once?
A. When I was pregnant I read about picky eaters and the advice to eat many different dishes and spices during pregnancy. But also to offer them different flavours in the age of 1. Now we are at the point that they eat avocado for breakfast, mussels for lunch and olives for dinner. As long as it's not spicy they like it. Our rule is to try everything at least once.
Q. Imagine that everything has gone wrong during a trip, i.e. the flight is overbooked, the rental car is not available and the credit card is stolen. The adults are arguing and the children are screaming. How do you pull the family together and turn the situation around?
A. Just recently I had to spend the night alone with my daughters (2 and 4 years old) at the airport in Abu Dhabi. It was horrible as long as I haven't found a place for us. As soon as I've chosen a corner in the waiting hall, unpacked their toys and a blanket it became home. The kids slept on the floor, played and had a good time. It's their reference experience now. Whatever bad happens they tell me, that we can just lie down here to sleep and play. "Everything will be good, Mummy!"
So I would choose a café or just a place on the ground. Sit down with them, cuddle and rethink our options.
Q. Are you creating your trips yourself online or do you use a travel agent?
A. Always online.
Q. When selecting a hotel for your trip, which is the most important source to obtain information (except for thinkingoftravel.com ;-) )?
A. If we have friends who've been there already I use this source. Otherwise I love airbnb and other sites. For sure I check their rankings, but more often trust my gut feeling. This way we found perfect accommodations in Thailand. Like a 2 bedroom Villa with private pool at Hua Hin for only 75€ per night. It's all about research and luck combined with courage to just do it.
If you are travelling with a family, like unusual destinations I do recommend to follow Barbara on Twitter, Facebook or Google+ and last but not least to check out her blog: ants-in-our-pants.com..