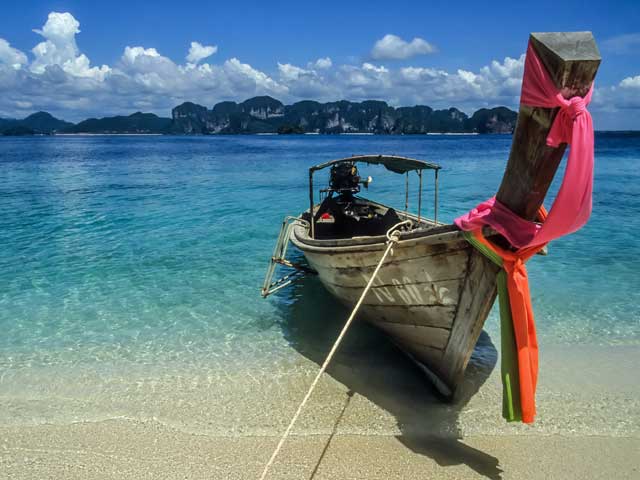 Phuket – Still One of the Best Islands in Thailand!
Phuket is Thailand's largest islands and has been on the tourist radar for many years, with several opportunities to keep busy during your vacation. For a few, the multitude of options on the island can be bothersome but for me it is a definite advantage. Phuket has something for everyone and this is the reason why it is still one of the best islands in Thailand!
Easy Getting to Phuket
First of all it is easy to get there. You have countless possibilities with scheduled flights via Bangkok, Singapore and Kuala Lumpur. Qatar Airways flies from Doha to Phuket via Kuala Lumpur (where a stopover usually is possible) with great connections from Europe and the world.
If you are into chartered package tours, there are ample opportunities to fly direct and non-stop from many parts of the world and the airport can handle any size of private jet. In other words, it is just a matter of picking your favourite mode of transportation.
All Types of Food on Hand.
Phuket is a foodie's heaven where you can taste almost anything, from an inexpensive dinner at a small food stall to a multi-course tasting menu of highest international standards. If fast food is your choice, you will find the international chains side by side with the local clones. Being surrounded by the ocean you are certain to get excellent seafood which is my favourite. Kan Eang in Chalong is a seafood restaurant I try to visit at least once during every stay but don't let that limit you, there are many good ones.
Speaking about food and the ocean, there are several good beach clubs in Phuket that are open almost all day. You will find some of them on Phuket Beach Club Society´s homepage. Why don't you try a new one every day?




Adventures and Activities
You can race go-carts, do all kinds of water sports, white-water rafting, ride elephants, ATV safaris, play golf on the world class courses, dive & snorkel, go kayaking, island hopping, deep sea fishing, go to one of the many spa´s and much more. I am convinced that I have forgotten something on the list, but I am sure you get the idea. There are plenty of things to do!
One of my favourites excursions is the tented camp at Elephant Hills were you not only get to ride an elephant you will also learn how to become a mahout (an elephant handler). There are many possibilities to ride on an elephant on Phuket itself too.
Shopping
Phuket is a shopper's paradise! You will find everything from local markets and bazaars to big malls like the Jungceylon in Patong Beach. There is even an outlet nowadays, Premium Outlet Phuket on the Bypass Road, dealing in guaranteed brand-name clothing and sports accessories at bargain prices on international brands like: Lacoste, Guy Laroche, Hush Puppies, Warner Bros, Pierre Cardin, Van Heusen, Levi's, Lee, Nautica, Adidas and Nike.
Thai people like to 'group' their shops so that if you are looking for a particular item, it is likely there will be several shops selling it on the same street.
Beaches
The most famous beaches are Patong, Karon, Surin, Kamala and Kata Beach. If you like people watching, hawkers and a little pulse this is where you want to be. It is an ideal place if you want to take a break from the beach for some shopping or dash up for a cold ice latte.
My personal favourite is the long and beautiful Nai Yang Beach by the airport. One might think that it could be noisy with take offs and landings but this is not the case. Personally, I don't mind a little plane spotting while swimming. The casuarina lined beach is a part of Sirinat National Park which means that there are no hawkers or motorized water sports and very peaceful.
Another favourite is Paradise Beach, 4km south-east of Patong. Just pass Merlin Beach Resort and up the very steep hill and you will reach it. There is a small restaurant on Paradise Beach and their Pineapple shakes are highly recommended.
I know we mentioned it above, but this is a good place to mention the beach clubs again: Phuket Beach Club Society´s homepage.
All Types of Accommodations
No matter if you are looking for a simple guest house, a five-star luxury pool villa or to rent a serviced house you will find it in Phuket. My favourite is the north east part of the island where you will find hotels like Dewa Phuket on beautiful Nai Yang beach.
Just outside Phuket you will find charming Khao Lak with several good hotels like The Sarojin and in the south east you will find Paradise Koh Yao. In other words, Phuket can be whatever you want it to be. Personally, I like to divide my stay 50/50 between total relaxation and being in the centre of things.
Climate
If you look up a tourist guide for Phuket it will state that the best period to visit Phuket is November – March, which is correct. Having said that, Phuket cllimate usually works well the rest of the year too, except for the monsoon weeks, but prepared a slightly more humid climate. The good thing about low season is that you will get exceptional deals on hotel and the island is a little calmer.
Summary
This is a very brief description of the island but I don't want to bore you with more details and facts. I hope you see the endless possibilities. You can get almost any experience in Phuket, either if you do a combination or if you choose to have one hotel as your "headquarters". There are plenty of webpages about the island if you prefer to DIY or call your travel agent. Phuket is there and ready to welcome you!